Keywords
Respiratory Syncytial Virus 
Severe Acute Respiratory Syndrome 
Environmental Tobacco Smoke 
Zinc Supplementation 
Acute Respiratory Infection 
These keywords were added by machine and not by the authors. This process is experimental and the keywords may be updated as the learning algorithm improves.
7.1 Introduction
Acute respiratory infections are the leading cause of morbidity and mortality among infants and children in developing countries. It is estimated that pneumonia causes up to 2 million deaths per year in children under 5 years of age, and neonatal pneumonia or sepsis causes an additional 1 million deaths per year [1]; an important contributing factor to these deaths is malnutrition [2]. Acute respiratory infections include both acute upper-respiratory infections and acute lower-respiratory infections. Acute lower-respiratory infections consist primarily of pneumonia, but also include croup, tracheobronchitis, and bronchiolitis. The specific aims of this chapter are to present current knowledge regarding the epidemiology, pathophysiology, diagnosis, and treatment of acute lower-respiratory infections and the potential role of nutrition in treatment and prevention.
7.2 Public Health Importance
The recently published report of the Disease Control Priorities Project (DCPP) has estimated that lower-respiratory infections in general caused 3.7 million deaths in the world in 2001, representing 6.7% of all causes of deaths in all ages and 5.6% of all disability-adjusted life years (DALYs) lost in the world [
3
]. The number of deaths caused by lower-respiratory infections in children under 5 years of age was estimated to be 1.9 million in the year 2001, representing 18.3% of all child deaths, higher than for diarrheal diseases, which explained only 15.1% of all child deaths [
4
] (Fig.
7.1
).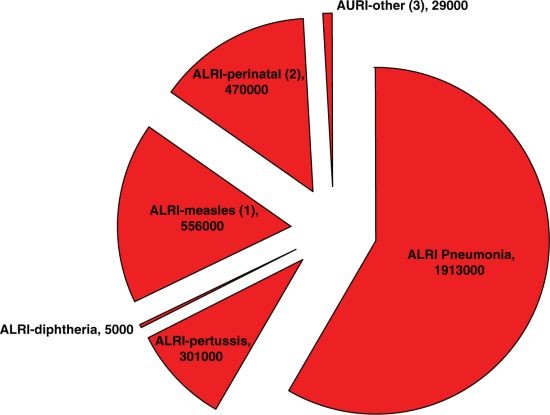 7.3 Historical Background
Among the acute respiratory infections, influenza epidemics are well described in historical accounts from at least the 12th century [5]. Epidemics have been especially well documented in Great Britain [6]. Influenza is known to have occurred in many pandemics, with involvement of all areas of the globe and a characteristic geographical spread along the routes of human travel. The great influenza pandemic in 1918–1919 is considered to have accounted for the most deaths from an epidemic disease since the Black Death of the 14th century, killing an estimated 21 million people worldwide [7, 8]. The threat of the avian influenza virus H5N1 to mutate and be able to spread among humans has alerted the world of the current risk of a similar deadly pandemic [9, 10].
A common cause of pneumonia, pneumococcus (Diplococcus [Streptococcus] pneumoniae), was identified in 1881, and subsequent animal studies showed that it was involved in the causation of pneumonia [11]. By the turn of the century in the United States, it was estimated that mortality from pneumonia affected 1 of 500 individuals [12]. Antipneumoccocal sera were developed for the treatment of pneumonia; however, typing of the many pneumococcal strains was needed to ensure that the proper pneumococcal antisera were used. Sulfa antibiotics, which emerged in the late 1930s, were later shown to be more effective than serum therapy in the treatment of pneumococcal pneumonia [11]. Identification of many viral pathogens involved in acute respiratory infections, including respiratory syncytial virus (RSV), parainfluenza virus, and rhinoviruses, occurred in the 1950s [11].
7.4 Epidemiology
Several risk factors have been identified for acute lower-respiratory infections. These are reviewed briefly in this chapter (Table
7.1
).
Table 7.1
Risk factors for acute lower-respiratory infection
| | |
| --- | --- |
| Low birth weight |   |
| Lack of breast-feeding |   |
| Malnutrition |   |
| Vitamin A defi ciency |   |
| Selenium defi ciency |   |
| Zinc defi ciency |   |
| Vitamin D or calcium defi ciency |   |
| Immunosuppression |   |
| Attendance at day care centers |   |
| Crowding |   |
| Exposure to cooking fire |   |
| Parental smoking |   |
| Outdoor contaminants |   |
| Low socioeconomic status, poor housing |   |
| Household dampness |   |
| Respiratory disease in the household |   |
| Prior respiratory infections |   |
| Young age |   |
| Males |   |
| Season |   |
| Lack of immunization |   |
| Human immunodefi ciency virus (HIV/AIDS) |   |
| Sickle-cell disease |   |
7.5 Clinical Features/Pathophysiology
7.6 Treatment
7.6.1 Case Management of Pneumonia
A case management approach for pneumonia in children has been developed by WHO and is based on the assumptions that the main causes of fatal pneumonia are S. pneumoniae and H. influenzae [236], and that antibiotic treatment of pneumonia can reduce case fatality rates [237]. An algorithm based on clinical signs was developed to facilitate the recognition and management of acute respiratory infections by non-specialist doctors working in small hospitals with limited facilities [238, 239]. Several intervention studies using a case-management strategy for pneumonia were conducted in several developing countries. A meta-analysis of intervention trials on case management of pneumonia in nine community settings showed that the case-management strategy has a substantial effect on neonate, infant, and under 5 mortality rates, at least in settings where infant mortality rates are 49/1,000 live births or greater [240, 241]. Despite differences in study populations (location, immunization coverage, diarrhea management, prevalence of malnutrition, health services availability, maternal literacy, and infant mortality rates) and antibiotic (penicillin, ampicillin, cotrimoxazole) treatment in the different intervention trials, there was a consistent impact of case management on pneumonia mortality in neonates, infants, and children 1–4 years old. Case management of pneumonia was associated with a summary estimate from the pooled studies of 42% reduction (95% confidence interval [CI] 22–57%) of neonatal pneumonia mortality, of a 36% reduction (95% CI 20–48%) of infant pneumonia mortality, and of a 36% reduction (95% CI 20–49%) of pneumonia mortality among children 0–4 years old [241]. Reductions of total mortality by 27% (95% CI 18–35%) in neonates, 20% (95% CI 11–28%) in infants, and 24% (95% CI 14–33%) in children 0–4 years of age were also observed [241].
7.6.2 Nutritional Interventions for Treatment of Acute Respiratory Infections
7.6.2.1 Z
inc
As described inSection 7.4.1.4, zinc supplementation given to children hospitalized with severe pneumonia was found effective in reducing pneumonia severity and shortening hospital stay in Bangladeshi [58] and Indian children [59], findings that were not confirmed in another Indian study [60]. No effect on wheezing disorders was observed in these trials [59]. Zinc gluconate glycine lozenges have been suggested as a therapy for the common cold [242, 243, 244]. Initial meta-analyses of randomized, controlled clinical trials have suggested that zinc lozenges may be effective in the reduction of cold symptoms in adults and children, but the studies had many problems, including zinc dose; inadequate placebo control, and various formulations of the lozenge, which may include citric acid, sorbitol, mannitol, or tartaric acid, which may bind free zinc ion in the mouth, reducing its therapeutic effect [242, 243]. Initial zinc lozenges were associated with adverse effects in general, with bad taste and nausea as prominent symptoms [245]. Recent done trials, however, have documented that zinc lozenges were associated with reduction of duration and severity of cold symptoms [246, 247], especially when administered within 24 hours of the onset of common cold symptoms [248]. The use of zinc nasal sprays, gels, or lozenges given intranasally have caused important side effects and are not recommended [249, 250].
7.6.2.2 V
itamin

A

Recent meta-analysis of trials evaluating the clinical effect of vitamin A supplementation in nonmeasles childhood pneumonia indicated that there was no effect [53, 54]. One study even showed vitamin A supplementation associated with more severe disease compared with placebo recipients [251]. These studies indicated that vitamin A supplementation has no role in the therapy of pneumonia.
7.6.2.3 S
elenium
Selenium may play a potentially important role in acute lower-respiratory infections, and this relationship has only been partly explored. In humans, it was recognized early that patients on total parenteral nutrition who developed selenium deficiency had a marked reduction in erythrocyte and granulocyte glutathione peroxidase activity, which inhibits the cell's capacity to metabolize H2O2, abnormalities that returned to normal after selenium supplementation [252]. In critically ill patients admitted to intensive care units, the frequency of ventilator-associated pneumonia, organ system failure, and mortality (especially in those who developed a systemic inflammatory response syndrome), were three times higher in patients with low plasma selenium concentration on admission [253]. This fall in plasma concentration of selenium seems to occur mostly in patients with septicemia or pneumonia compared with those who develop viral infections [254, 255]. In a double-blind, controlled trial in Chinese children, selenium supplementation in children hospitalized with pneumonia or bronchiolitis associated with RSV resulted in a faster recovery rate of specific respiratory signs or symptoms [66]. Selenium supplements have also improved clinical signs of children with M. pneumoniae [67], and food additives containing selenium have improved symptoms in children admitted with pneumonia in Russian hospitals [68, 69]. Further trials are needed to document the value of selenium in the management of acute lower-respiratory infections in children.
7.7 Prevention
Potential interventions for the reduction of morbidity and mortality of pneumonia in children under 5 years old include immunization, improving nutrition, reducing environmental pollution, reducing transmission of pathogens, and improvement of child care practices [28].
7.7.1 Immunization
Measles and pertussis are still causing an important proportion of acute respiratory infection-related deaths in the world's children under 5 years old [1]. Increasing immunization coverage with measles vaccine and with diphtheria-pertussis-tetanus vaccine would be expected to lower the deaths from these two vaccine-preventable causes of acute respiratory infections [256]. The seven-valent conjugated pneumococcal vaccine has been safe and effective against pneumonia and invasive pneumococcal disease in children in the United States and was introduced for universal immunization in children in 2000 [257]. The effect of this vaccine introduction was greater in adults not vaccinated but protected by herd immunity by their children's immunization [257]. A protective effect was also observed for antibiotic-resistant invasive pneumococcal infections in children and adults in the United States [258]. This vaccine also reduces the prevalence of nasopharyngeal carriage of vaccine-type S. pneumoniae serotypes, which are replaced by nonvaccine types [259]. Recent reports from the United States indicate that these replacing serotypes are causing a greater proportion of invasive disease than before, which is a concern over the long-term benefits of this vaccine [257, 258]. The effect of this vaccine on the prevention of acute otitis media is questionable [260], although it may reduce tympanostomy tube placement in children [261]. A nine-valent conjugate pneumococcal vaccine was tested in a large group of infants in the Gambia, where it was documented not only to be 37% effective against radiological pneumonia, 77% effective against invasive pneumococcal disease caused by vaccine-related serotypes, and 15% against all-cause hospital admissions, but also was 16% effective in reducing mortality [262]. This nine-valent vaccine was also effective in South African infants, mostly among those who were not infected with HIV [263]. The seven-valent vaccine is now licensed for commercial use in several developing countries, but due to its high price, its use in public immunization programs will not happen soon. Other pneumococcal vaccines are under the horizon that may allow their introduction in developing countries.
Haemophilus influenzae type b (Hib) vaccine has been effective in reducing childhood pneumonia and meningitis in some industrialized countries, and a trial in the Gambia showed that a conjugate Hib vaccine was 95% protective against all invasive Hib disease and 100% protective against Hib pneumonia [264]. Although Hib causes only a small proportion of pneumonia, the vaccine was able to be 21% protective against any type of radiologically defined pneumonia in young children, indicating its potential to control diseases in children and infants from developing countries. This newly available vaccine has been rapidly introduced to developed countries, followed a few years later to most countries in Latin America. With the support of the Global Alliance for Vaccines and Immunisation (GAVI), the Hib vaccine is being introduced in poor countries [265].
Another vaccine that was introduced in developed countries that may be widely used in developing countries is an inactivated, trivalent influenza vaccine. In 2002, it was recommended to be used in US children 6–23 months of age [266], and several Latin American countries have also introduced it in young children. A new, cold-adapted, live influenza vaccine has proved not only immunogenic in young infants but also more effective in preventing influenza illness than the inactivated influenza vaccine [267]. However, the use of the cold-adapted trivalent intranasal influenza virus vaccine in children and adolescents has been associated with an increased risk of asthma or reactive airway disease in children younger than 36 months [268]. This risk may be related to the intranasal route of administration since the use of a live attenuated trivalent influenza vaccine in children and adolescents has not been observed to increase the risk of asthma [272], including when it was tested in children and adolescents with asthma [270]. Finally, the use of the BCG vaccine in infants has been cost-effective in preventing severe childhood tuberculosis and should continue to be used [271].
The protection of the fetus by transplacental transfer of maternal antibodies has allowed the protection of infants against tetanus by maternal immunization. Similar approaches are also being considered to protect neonates against pneumococcal diseases, pertussis, group B streptococcal infections, and Hib infections [204, 272]. Other vaccines against human parainfluenza virus type 3 and RSV are also under development and may become available in the near future.
7.8 Future Directions
As reviewed in this chapter, a series of studies is needed to be able to answer many of the questions raised. The most important ones are listed next.
7.8.1 Risk Factors for Pneumonia and Acute Lower-Respiratory Infection
The impact of acute lower-respiratory infections on subsequent nutritional status and growth needs further elucidation in developing countries.

There is a need to perform properly conducted studies to prove or disprove the relationship between cold or high-humidity exposure and pneumonia and other acute lower-respiratory infection.

Further studies are needed to clarify if abnormal lung function precedes or is a consequence of pneumonia or acute lower-respiratory infection or both.

There is a need to understand better the pathophysiology of intrauterine growth and how LBW could be avoided.

The relationship between maternal immune status and the protection of neonates by trans-placental immune mechanisms needs further study.

Only zinc and vitamin A have been evaluated in relation to pneumonia and acute lower-respiratory infection. Other micronutrients, like selenium, vitamin D, and calcium, deserve further studies. There is a need to study further the relationship between indoor air pollutants and acute lower-respiratory infection, identifying the combustion products that are more closely related to these diseases, and describing their pathophysiology.
7.8.2 Clinical Aspects
There is a need to standardize the methodology and defi nitions of pneumonia and acute lower-respiratory infection for the conduct of longitudinal prospective studies of acute lower-respiratory infection epidemiology.

There is a need to improve the diagnostic capabilities of bacterial pathogens as causes of pneumonia and invasive diseases in infants and children to facilitate the clinical management of patients and the conduct of epidemiological studies.

The results of the WHO-sponsored studies on the etiology of severe infections of infants under 3 months of age have indicated the need to reevaluate the clinical management of these cases in developing countries.

The increased prevalence of antibiotic-resistant bacteria strains is worrisome. There is a need to monitor this trend and at the same time try to diminish the inappropriate use of antibiotics. Alternative methods for the treatment of these infections may be needed in the near future.
7.8.3 Prevention
There is a need to replicate effective interventions that have improved weaning food practices and improved the nutritional status of children in developing countries from Africa and Southeast Asia and to study their impact on the incidence and severity of pneumonia and other acute lower-respiratory infections.

The protective effi cacy of breast-feeding promotion on pneumonia and other acute lower-respiratory infections needs further evaluation and documentation.

Although zinc supplementation has been proven to reduce the incidence of pneumonia and acute lower-respiratory infection, there is a need to document its impact on mortality, which should facilitate the development of a sustainable approach to improve the zinc status of children in developing countries.

Prospective studies as well as double-blind, placebo-controlled clinical trials with selenium as a treatment or prevention of respiratory diseases in children, particularly in premature or LBW infants, are needed.

Maternal immunization seems to be a promising intervention for the control of infections in the neonatal period. Proposed vaccine candidates should be evaluated in properly designed studies.

The search for effective and affordable vaccines against the most prevalent childhood illnesses for children in the developing world should continue.

Ways to reduce the risk of transmission of respiratory pathogens in crowded areas and in day care centers are urgently needed. Effective interventions should be developed and tested in developing countries.

The exposure of children in developing countries to indoor air pollutants, including environmental tobacco smoke, needs further evaluation. Appropriate interventions (such as improving stoves) should be developed and tested for their efficacy in preventing pneumonia and other acute lower-respiratory infection.
7.9 Conclusions
Acute lower-respiratory diseases are some of the most important diseases of infants and young children in developing countries and are closely associated with high morbidity and mortality. A series of factors that increase the risk of developing pneumonia and other types of acute lower-respiratory infections have been identified, whereas others require further studies. Although a considerable number of studies have been conducted to measure the incidence and clinical characteristics of these illnesses, there is still a need to standardize the methodology to be used in the field. Physician-based diagnostic methodologies seem to be preferable to symptom-based definitions of pneumonia, which are not capable of adequately separating pneumonia from wheezing disorders and other acute lower-respiratory infections; this explains the great variability of the rates reported in studies using that methodology. Recently conducted studies on the etiology of severe infections in infants less than 3 months of age have identified the increased rate of pneumococcal diseases even from the neonatal period. Maternal immunization may be an important public health tool to reduce severe infections during the neonatal and early postneonatal periods of infants.
Despite the considerable knowledge on risk factors for pneumonia and other acute lower-respiratory infection, there are relatively few proven interventions to prevent them. The most promising ones are vaccines. The new pneumococcal conjugate vaccines, combined with the Hib vaccine, may be important interventions to control severe invasive diseases caused by these bacteria.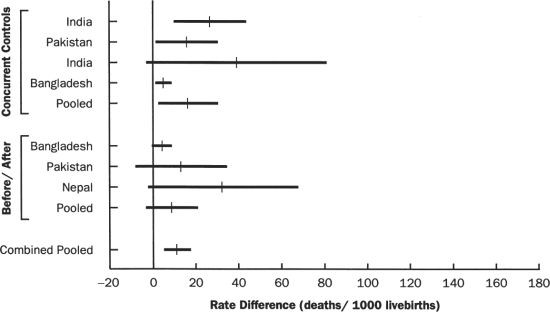 While new vaccines are developed, tested, and implemented, other interventions are also needed that will focus on nutrition and the control of micronutrient deficiencies. Further studies are needed to identify sustainable interventions to improve the general nutritional status of children in developing countries as well as their families. The deficiencies of zinc, selenium, calcium, and vitamin D in children are also important and should be controlled. These studies also need to document their impact on pneumonia and other acute lower-respiratory infections in the affected population.
Copyright information
© Humana Press, a part of Springer Science+Business Media, LLC 2008