Presymptomatic and Symptomatic Stages of Intracerebral Inclusion Body Pathology in Idiopathic Parkinson's Disease
Abstract
The pathological process that underlies idiopathic Parkinson's disease (IPD) progresses relentlessly and requires years to reach its full extent, provided it is not terminated prematurely by death. The severity of the pathology increases gradually during the course of the disorder (1, 2, 3, 4, 5, 6, 7, 8). As such, the lesions develop already, to a mild or moderate degree, even in the nervous system of persons whose clinical protocols fail to note the onset or presence of classical IPD-associated motor symptoms (9, 10, 11, 12, 13, 14, 15, 16, 17). Thus, the course of the disease process can be subdivided into presymptomatic and symptomatic phases (Fig. 1A). (3, 5) Like the tip of an iceberg, it is only the symptomatic, later phase of the larger degenerative process that presently can be detected clinically.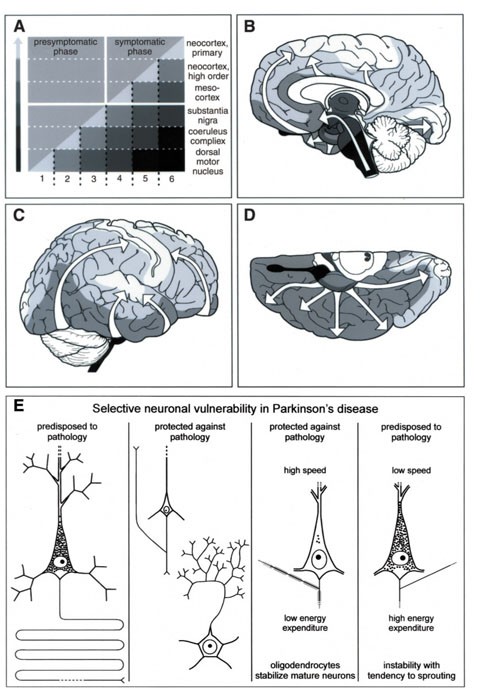 Keywords
Ventral Striatum 
Vagal Nerve 
Dorsal Striatum 
Anterior Thalamic Nucleus 
Pedunculopontine Nucleus 
These keywords were added by machine and not by the authors. This process is experimental and the keywords may be updated as the learning algorithm improves.
Copyright information
© Humana Press Inc., Totowa, NJ 2005