Abstract
The different skeletal types of sesquiterpene lactones (SLs) are classified on the basis of their carbocyclic ring skeleton, in which the suffix "olide" is used to indicate the presence of a lactone group. The majority of SLs from higher plants contain α-methylene-γ-lactone functions (1) in which H-7 is, without exception, α-oriented.1–4 Certain liverworts, however, produce SLs of the enantiomeric series.5 In this review the biogenesis of only those common SLs will be considered in which one of the isopropyl methyls of the sesquiterpene ring is oxidized. The major skeletal types of SLs with the generally accepted numbering are outlined in Figure 1. The lactone rings are shown as 12,6-lactonized structures, although many SLs contain 12,8-lactones. The by far largest number of SLs has been isolated from the Asteraceae (Compositae),1–4 but they are also found in other angiosperm families including the Acanthaceae, Amaranthaceae, Apiaceae,6 Aristolochiaceae, Burseraceae, Bombacaceae, Coriariaceae, Illiciaceae, Magnoliaceae, Menispermaceae, Lamiaceae, Lauraceae, Polygonaceae and Winteraceae.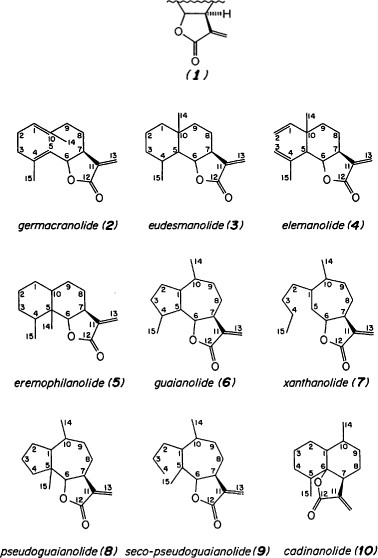 Keywords
Absolute Configuration 
Sesquiterpene Lactone 
Allylic Alcohol 
Selenium Dioxide 
Tetrahedron Letter 
These keywords were added by machine and not by the authors. This process is experimental and the keywords may be updated as the learning algorithm improves.
Copyright information
© Plenum Press, New York 1990