Role of CD14 in Lung Inflammation and Infection
Abstract
Toll-like receptors (TLR) on the surface of cells of the respiratory tract play an essential role in sensing the presence of microorganisms in the airways and lungs. These receptors trigger inflammatory responses, activate innate immune responses, and prime adaptive immune responses to eradicate invading microbes [1]. TLR are members of a family of pattern-recognition receptors, which recognize molecular structures of bacteria, viruses, fungi and protozoa (pathogen-associated molecular patterns or PAMPs), as well as endogenous structures and proteins released during inflammation (damage/danger-associated molecular patterns or DAMPs). To date, ten different TLR have been identified in humans and twelve in mice. TLR are expressed on all cells of the immune system, but also on parenchymal cells of many organs and tissues. The binding of a PAMP to a TLR results in cellular activation and initiates a variety of effector functions, including cytokine secretion, proliferation' co-stimulation or phagocyte maturation. To facilitate microbial recognition and to amplify cellular responses, certain TLR require additional proteins, such as lipopolysaccharide (LPS) binding protein (LBP), CD14, CD36 and high mobility group box-l protein (HMGB-l). In this chapter, the role of CD14 as an accessory receptor for TLR in lung inflammation and infection is discussed. The central role of CD14 in the recognition of various PAMPs and amplification of immune and inflammatory responses in the lung is depicted in Fig. 1.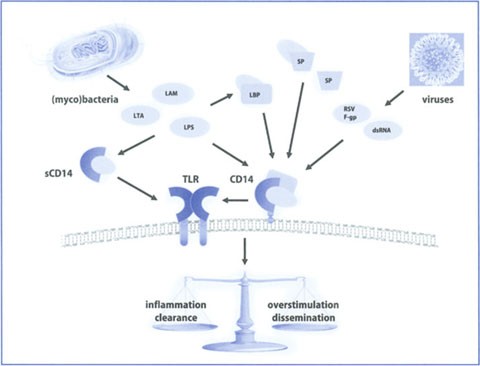 Keywords
Respiratory Syncytial Virus 
Respir Crit 
Lung Inflammation 
Neutrophil Influx 
Muramyl Dipeptide 
These keywords were added by machine and not by the authors. This process is experimental and the keywords may be updated as the learning algorithm improves.
Download
to read the full conference paper text
Copyright information
© Springer Science + Business Media Inc. 2010