Abstract
In multicellular organisms, cell death plays an important role in development, morphogenesis, control of cell numbers, and removal of infected, mutated, or damaged cells. The term
apoptosis
was first coined in 1972 by Kerr et al.
1
to describe the morphologic features of a type of cell death that is distinct from necrosis and is today considered to represent programmed cell death. In fact, the evidence that a genetic program existed for physiologic cell death came from the developmental studies of the nematode
Caenorhabditis elegans
.
2
As time has progressed, however, apoptotic cell death has been shown to occur in many cell types under a variety of physiologic and pathologic conditions. Cells dying by apoptosis exhibit several characteristic morphologic features that include cell shrinkage, nuclear condensation, membrane blebbing, nuclear and cellular fragmentation into membrane-bound apoptotic bodies, and eventual phagocytosis of the fragmented cell (
Figure 4.1
).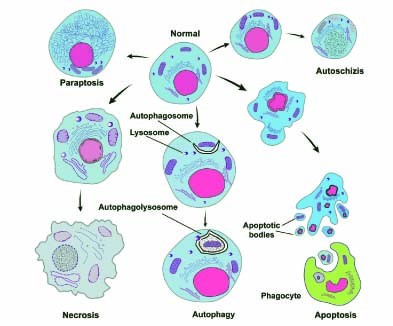 Keywords
Chronic Obstructive Pulmonary Disease 
Programme Cell Death 
Acute Respiratory Distress Syndrome 
Alveolar Epithelial Cell 
NSCLC Cell Line 
These keywords were added by machine and not by the authors. This process is experimental and the keywords may be updated as the learning algorithm improves.
Copyright information
© Springer Science+Business Media, LLC. 2008