Abstract
The surface envelope protein of any virus is major determinant of the host cell that is infected and as a result a major determinant of viral pathogenesis. Retroviruses have a single surface protein named Env. It is a trimer of heterodimers and is responsible for binding to the host cell receptor and mediating fusion between the viral and host membranes. In this review we will discuss the history of the discovery of the avian leukosis virus (ALV) and human immunodeficiency virus type 1 (HIV-1) Env proteins and their receptor specificity, comparing the many differences but having some similarities. Much of the progress in these fields has relied on viral genetics and genetic polymorphisms in the host population. A special feature of HIV-1 is that its persistent infection in its human host, to the point of depleting its favorite target cells, allows the virus to evolve new entry phenotypes to expand its host range into several new cell types. This variety of entry phenotypes has led to confusion in the field leading to the major form of entry phenotype of HIV-1 being overlooked until recently. Thus an important part of this story is the description and naming of the most abundant entry form of the virus: R5 T cell-tropic HIV-1.
1

Introduction

Retroviruses are sloppy. One can marvel at the regularity of the surface envelope protein of flaviviruses and alphaviruses where the proteins outside of the membrane are organized with the icosahedral shell inside of the membrane. One can envy the high density of envelope proteins that decorate the surface of coronaviruses and influenza virus. While some retroviruses show-off a high density of their surface envelope protein (Env), for others inclusion of the Env protein almost seems like an afterthought, given the apparent low density of Env on the virus surface (Zhu et al. 2006; Martin et al. 2016). In the case of HIV-1, the Env protein appears on the surface of the cell and if not quickly incorporated into a budding virion it is cycled back off the surface (Rowell et al. 1995; Sauter et al. 1996), presumably to avoid marking the cell as infected, a biologic example of "use it or lose it."

All retroviruses encode an Env protein, representing a primordial strategy for how at least some viral particles are able to fuse their membranes with the target cellular membrane. There are cellular proteins that can fuse membranes, for example the SNAREs, but the details of how they accomplish this are sufficiently different that it is hard to argue they are the origin of the viral envelope proteins like retroviruses use. Ironically it is easier to make the opposite claim. The cellular protein syncytin 1 is responsible for fusing cells to make a multicellular placenta in primates. Syncytin 1 is derived from an endogenous retrovirus whose env gene is now developmentally regulated. When expressed it fuses adjacent cells in the same way a viral membrane is fused to the cellular membrane; similar capture events appear to have happened in other eutherian mammals (Cornelis et al. 2013). The current lack of a true cellular protein that acts like the retroviral Env protein, and the fact that the retroviral Env protein functions in the same way as the influenza viral protein (and the surface protein of other distant viruses too), points to an early evolution of this type of membrane fusion capacity in enveloped viruses with this gene evolving with viruses as they generated different lineages. It is also likely that this gene has been passed among different viral lineages followed by distinctive evolution within the lineages to retain the basic fusion mechanism but with greatly varying sequence.

There are several universal points about this class of viral entry proteins (Fig. 

1

). First, they are type 1 transmembrane (TM) proteins with an N-terminal signal sequence that threads them into the endoplasmic reticulum and a stop-transfer sequence that stays in the membrane near the C terminus of the protein. This gives a luminal/outside N terminus of the protein and leaves the C terminus "inside" of the cell, which later becomes the inside of the virus particle when it buds from the cell taking some of the cellular membrane as its envelope. Second, there is an obligatory trimerization of the protein to stabilize its structure. Third, each subunit of the trimer is cleaved by a host protein (furin or furin-like) in the late Golgi compartment to create an extracellular component and a TM component, both of which are retained in the trimer complex and with each other. Fourth, the extracellular component (called SU for surface component in retrovirus nomenclature) of the cleaved protein is responsible for interacting with the host receptor(s), while the TM component exposes a hydrophobic stretch of amino acids (fusion peptide) at its new N terminus that is able to insert into the host membrane to facilitate fusion of host and viral membranes. There is a signal transduction event between the SU and TM components of the protein that occurs when the SU component binds its receptor thus defining the moment when fusion to the host cell must occur. There are diverse host cell receptors for viruses with this type of surface envelope protein, and the protein domains that bind the receptor and transduce the signal have lost any semblance of a common ancestor. And fifth, in contrast to the diversity of SU protein function the fusion mechanism is highly conserved, in function if not in sequence. Insertion of the TM N-terminal fusion peptide into the host cell membrane is linked to the formation of a proximal trimer of a heptad repeat. This is followed by a more distal heptad repeat that folds up on the N-terminal heptad repeat to form a hairpin. Both of these heptad repeats (hr) are in the extracellular domain of TM such that the N-terminal repeat (hr1) is adjacent to the fusion peptide inserted into the host membrane and the C-terminal heptad repeat (hr2) is adjacent to the viral membrane-spanning portion of TM; the juxtaposition of the heptad repeats in the hairpin brings the two membranes together to promote fusion, bringing the inside of the virus particle into the inside of the target host cell.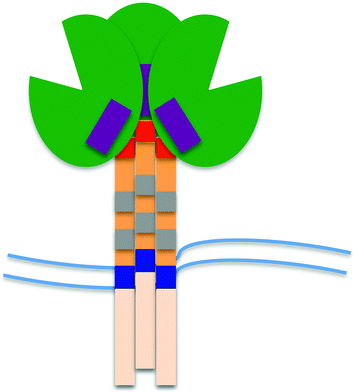 There are several other curious points to mention about viruses that use this type of viral entry protein. First, the somewhat loose relationship between the TM viral envelope protein and the viral capsid inside of the viral envelope allows other proteins to be incorporated as TM proteins into the virus particle. Cellular proteins can be incorporated and there is an ongoing interest as to whether such proteins can alter the biology of the virus particle. Second, other viral proteins can be incorporated into the virus envelope which now gives the virus a host range specificity not encoded in its own genome, a phenomenon known as pseudotyping. Third, the virus-producing cell still expresses the cellular receptor. Since the virus does not what its envelope proteins interacting with the host cell receptor on a cell that is already infected, viruses use a variety of strategies of lowering the amount of receptor on the surface of the infected cell and regulating the fusogenicity of the envelope protein until the virus particle has budded. The overall effect of either down-regulating the receptor or tying up the receptor with newly synthesized Env protein prevents the infected cell from getting super-infected (usually), a phenomenon known as interference.
In this review we will focus on the SU domain of two very different retroviruses: avian leukosis virus (ALV) and human immunodeficiency virus type 1 (HIV-1). We will examine what sequence evolution can tell us about the proteins, we will look at their receptors and the conformational changes induced by binding to the receptor, and we will explore how these proteins can change host range to target different cell types. Some commonalities will emerge, but it will also be striking how different these two groups of viruses have solved the challenge of host cell targeting.
2

Avian Leukosis Virus (ALV)

It was around 1900 that enough evidence was accumulating to make the concept of a virus tenable. At that time most of the evidence was based on identifying a transmissible disease-causing agent that could be passed through a filter that would retain bacteria. There was an ongoing discussion as to whether these filterable agents could be very very small bacteria (but still independently living), toxins, or viruses that could only replicate within a host cell. As viruses became synonymous with filterable agents the list of viral diseases grew. There were no tools to measure a virus directly so disease was the only readout initially. Thus Ellermann and Bang described the first ALV-associated disease with the description of avian leukemia in 1908. Within a few years Peyton Rous would get credit for describing the first tumor-causing virus, Rous sarcoma virus, in 1910, for which he would get the Nobel Prize in 1966.

There was of course an underlying biology of these viruses that could not have been guessed in 1910, with genetic heterogeneity in the chickens defining susceptibility and in the virus changing receptors, and even endogenous viruses in the chicken genome. These phenomena were all revealed slowly, initially as unexpected observations that had to be reproduced enough so that a description could be formulated that could then be used to support suggestions of underlying mechanisms.
3

HIV-1 Env Proteins: Still Trying to Get It Right

HIV-1 was discovered around the time other retroviral genomes were just coming into the hands of cloners. Given its novelty as the second human retrovirus, and certainly the scarier of the two, the understanding of the framework of its biology occurred quickly. An important early observation was that CD4 on the surface of T cells was a receptor important for cell entry, demonstrated by blocking viral infection with an anti-CD4 antibody (Dalgleish et al. 1984; Klatzmann et al. 1984). This is a fundamental property of HIV-1 as no CD4-independent virus has ever been isolated, although it has been possible to select for a CD4-independent SIV in cell culture (Swanstrom et al. 2016). However, after identifying CD4 as a receptor for HIV-1, the entry field took a confusing twist that is still confounding us today. In a way that was analogous to some chickens/eggs/CEFs being resistant to infection (for lack of a functional receptor), certain strains of HIV-1 could not grow on cell lines that clearly expressed CD4, even though all viral isolates could grow in PBMCs. Thirty years later we are still trying to overcome the initial interpretation of these results that now need to be updated.

The identification of CD4 as a receptor and the use of transformed T cell lines that express CD4 (usually derived from a leukemia) make perfect sense. The ability of some strains of virus to grow in the T cell lines earned them the name T cell-tropic. Those that failed to grow had to be something else. Macrophages express a low level of CD4 and can support a low level of entry for most isolates and overt replication for some isolates. This was enough for the isolates that could not grow in the T cell lines to earn the name macrophage-tropic. Thus HIV-1 isolates fell into these two nice categories, T cell-tropic and macrophage-tropic. Unfortunately both names are inappropriate for what they were trying to describe.

This problem of misidentification became exacerbated with the important discovery that HIV-1, unlike most of the other viruses we know about, has a second receptor now called the co-receptor. A coreceptor was identified for one of the "T cell-tropic" viruses which was the chemokine receptor CXCR4 (Feng et al. 1996). By analogy the "macrophage-tropic" viruses should use a similar molecule, which was quickly identified as the chemokine receptor CCR5 (Alkhatib et al. 1996; Choe et al. 1996; Deng et al. 1996; Doranz et al. 1996; Dragic et al. 1996). Viruses using these coreceptors were named X4 and R5 viruses and the dual entry phenotype of HIV-1 was further engrained as X4 T cell-tropic and R5 macrophage-tropic. If the names were inappropriate before this only made it worse. In fact there are three types of HIV-1 whose entry phenotypes are most accurately described as a jumble of these two inappropriate names.

The missing piece in this story was apparent to a few investigators who came to understand that the "R5 macrophage-tropic" viruses were not homogeneous. Some were effective at using a low density of CD4 while most were inefficient at entering cells that displayed a low density of CD4 (Kabat et al. 1994; Platt et al. 1998). Furthermore, the viruses capable of using a low density of CD4 were most reliably found in the brain late in infection (Gorry et al. 2002; Peters et al. 2004; Dunfee et al. 2006; Martin-Garcia et al. 2006; Peters et al. 2006; Duenas-Decamp et al. 2009; Schnell et al. 2011). Since macrophages have a low density of CD4 (CD4 has no function in macrophages) (Lee et al. 1999; Joseph et al. 2014), it is a small leap to suggest that the viruses that can use a low density of CD4 to enter cells are in fact the ones that have evolved to become macrophage-tropic. We used a cell line (Affinofile cells) designed to allow regulated control of CD4 levels (Johnston et al. 2009) to explore these issues at length. After analyzing between 100 and 200 env genes cloned from a variety of sources, we came to the conclusion that R5 macrophage-tropic viruses are rare (see for example Ping et al. 2013). This left the majority of R5 viruses as distinct from R5 macrophage-tropic viruses and without a name.

As discussed later, X4 viruses evolve from R5 viruses so the default version of HIV-1 has to be an R5 virus. But if most of these isolates do not enter macrophages efficiently then where are these viruses growing? Of course the answer is T cells and they are rightly called T cell-tropic, or more descriptively R5 T cell-tropic. However, we started this discussion with the idea that only X4 viruses were growing in T cells, or more accurately T cell lines. For those who are good at puzzles the answer is probably clear. The CD4+ T cells lines used to grow HIV-1 in the early days expressed CXCR4 but not CCR5, a point that at the time was meaningless since the concept of the coreceptor did not exist. However, just as chickens, eggs, and CEFs can lack functional receptors for certain subgroups of ALV, these cell lines were heterogeneous for expression of the coreceptors, although in general most of these transformed cell lines express CXCR4 and not CCR5. The better analogy comes with the observation that about 10% of northern Europeans carry a CCR5 allele with an inactivating mutation, meaning that about 1% of this population is resistant to infection by the most common form of HIV-1, i.e., R5 T cell-tropic virus (Dean et al. 1996; Samson et al. 1996; Liu et al. 1996). Such individuals can be infected with an X4 T cell-tropic virus (Theodorou et al. 1997; Michael et al. 1998), although transmission of this virus is rare. It should be noted that when we have examined X4 viruses where the env genes were isolated without tissue culture passage we find that they require a high density of CD4 so that they are still appropriately called X4 T cell-tropic (M. Bednar and R.S., in preparation).

To summarize HIV-1 entry phenotypes thus far: there are three entry phenotypes, R5 T cell-tropic, R5 macrophage-tropic, and X4 T cell-tropic. The default form of HIV-1 is R5 T cell-tropic, using the CCR5 coreceptor and requiring a high density of CD4 for entry. X4 T cell-tropic viruses evolve late in disease with a switch in coreceptor use. In an analogous way macrophage-tropic viruses also evolve late in disease (in a T cell-poor environment) and gain the ability to enter cells with a low density of CD4 more efficiently. Thus the vexing legacy of the early entry work is that in naming two types of entry phenotypes the one that was excluded is the one that is actually the predominant form of HIV-1: R5 T cell-tropic.
3.1

The Two Evolutionary Variants of R5 T Cell-Tropic Viruses

The transmitted form of HIV-1 and the form that is found in the blood throughout most of the infection is the R5 T cell-tropic form of HIV-1 (using CCR5 as the coreceptor and requiring a high density of CD4 for efficient entry) (Ochsenbauer et al.

2012

; Ping et al.

2013

). That means that the other forms must evolve from the R5 T cell-tropic form (Fig. 

2

). With the discovery of coreceptors it was possible to make the link with the CXCR4-using version of HIV-1 as appearing late in infection (Connor et al.

1997

; Brumme et al.

2005

; Moyle et al.

2005

). As noted above for the evolution of different subgroups of ALV (probably on a much longer time scale), the R5 T cell-tropic version of HIV-1 must interact at least a little bit with CXCR4 to allow that evolutionary pathway to occur. At the extreme, the adaptation is so complete that the virus losses the ability to interact with CCR5, however most viruses never get that far in their evolution so the typical virus seen is termed dual-tropic, meaning it can use both CXCR4 and CCR5. We have observed that these dual-tropic viruses have a reduced affinity for CCR5, as measured by increased sensitivity to a CCR5 antagonist, suggesting that the dual-tropic viruses are more X4 than R5 (M. Bednar and R.S., in preparation). We have also observed that X4 viruses require a high density of CD4 for efficient entry, retaining their X4 T cell-tropic moniker. Since X4 viruses evolve late in disease we can speculate that either they require an immunodeficient host to evolve or that they evolve when the preferred target cells, CD4+ CCR5+ T cells, become limiting. One theory is that CD4+ CXCR4+ naive T cells support the replication of X4 viruses (Ribeiro et al.

2006

).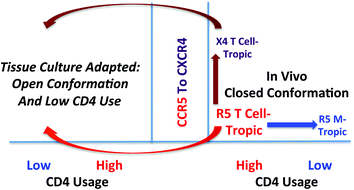 The second evolutionary variant of HIV-1 is of course the macrophage-tropic variant. Where the change in coreceptor use is more dramatic and easy to measure, the change in CD4 use is less dramatic and harder to measure (Joseph et al. 2014; Arrildt et al. 2015), accounting for much of the confusion about this phenotype. These viruses evolve in a T cell-poor environment, especially in the CNS (Sturdevant et al. 2015). In addition to their ability to efficiently enter cells with a low density of CD4 there is a tightly linked phenotype of increased sensitivity to neutralization by soluble CD4 (Arrildt et al. 2015). It appears these viruses are primed to undergo the fusion conformation cascade with fewer interactions with CD4.
3.2

A Fourth Entry Phenotype Is an Artifact of Tissue Culture Adaptation

It is common practice in studying a virus to grow the virus in tissue culture. For most of the viral functions this is probably not a bad idea, at least in the short term. However, given that many attenuated viral vaccines were developed simply by passaging an isolate in culture we have to acknowledge that passage in culture does put the virus under a very different selective pressure compared to what it experiences in vivo. The strongest selective pressure in cell culture is likely to occur on the viral entry phenotype. There is no wrong cell to infect given that the culture is largely homogeneous, so viral replication in cell culture becomes a race to see who can enter cells most quickly. HIV-1 seems to be especially susceptible to a serious cell culture artifact that is as yet not fully appreciated.

As noted above the HIV-1 Env protein goes through a conformational change when binding the CD4 receptor (McDougal et al. 1986; White et al. 2010; Munro et al. 2014). For most viruses this would lead to insertion of the fusion peptide followed by membrane fusion. However, for HIV-1 there is an extra step. The first conformational change is to create and expose the CCR5 binding site. Binding to CCR5 then triggers insertion of the fusion peptide, formation of the six helix bundle, and membrane fusion between the host and viral membranes. Thus the HIV-1 Env protein trimer must transition through a lot of conformational space to carry out its job. When examining the antibodies from people infected with HIV-1 there seem to be abundant antibodies to epitopes that are created after binding to CD4. This is likely the selective pressure that keeps the trimer in a "closed" conformation where these epitopes are either covered or not yet even formed. The transient exposure of these epitopes after CD4 engagement leaves too little space at the surface of the cell for these antibodies to be effective (Labrijn et al. 2003). However, in cell culture no such antibody selective pressure exists.

An important observation was the realization that passage of HIV-1 in tissue culture led to a highly neutralization sensitive form of the Env protein where it was now sensitive to these CD4 binding-induced epitopes (Moore et al. 1995). The conformation associated with this state has become known as the "open" conformation. The important thing to realize is that a virus with its Env protein in an open conformation is a tissue culture artifact, such viruses are not found in vivo (Mascola et al. 1996; Harris et al. 2011). In the race to grow the fastest in cell culture the incorporation of mutations that dispense with the closed conformation and allow the virus to skip most of the conformational change induced by binding CD4 are selected, although these viruses are still CD4-dependent (Fig. 2).

The next idea we will discuss is partly data-driven and partly prediction. Tissue culture adaptation has another phenotype that causes confusion with macrophage tropism; like macrophage-tropic viruses, tissue culture-adapted viruses are also able to use a low density of CD4 to enter cells (Kabat et al. 1994). The important distinction to make is that tissue culture adaptation selects for an open conformation while macrophage tropism does not. There do seem to be some structural changes in the Env protein associated with macrophage tropism, but these do not go as far as representing the tissue culture-adapted open conformation (Arrildt et al. 2015). This is an important distinction to make because these two forms appear to share the feature of being able to use CD4 at a low density. We would predict that the pathway to low CD4 use in the context of tissue culture adaptation is distinct from the more relevant pathway that the virus uses in vivo to become macrophage-tropic. In developing a relevant understanding of macrophage tropism it will be important to rigorously avoid confounding information that comes from tissue culture-adapted viruses.
Notes
Acknowledgements
Our own work is supported by the National Institutes of Health. We thank many lab members who contributed to the ideas in this review. We also thank Adrienne Swanstrom for editorial assistance.
Copyright information
© Springer International Publishing AG 2017