Abstract
This review summarizes the existing data about the geological sources of As in Greece; their variety and the relevant concentrations make Greece a peculiar territory to generalize and better understand the methodology for their assessment. These sources concern As-containing ores in active and abandoned mining areas, geothermal/hydrothermal waters, lignites in exploited and unexploited deposits, As-minerals in various rock types such as metamorphic rocks, and mineral dust originating in Sahara desert. It is considered that As release from the above sources, in conjunction with various anthropogenic As fluxes, occasionally creates distinct areas with contaminated groundwater, soils, marine and atmospheric environment. In general, Greece has been reported as a global As "hot spot" and it is argued that a significant amount of the Hellenic population might be affected by As pollution. The most important and permanent As source seems to be geothermal/hydrothermal fluids, due to faults and volcanic activity, affecting the underground, surface, and marine aquatic environment.
Graphical Abstract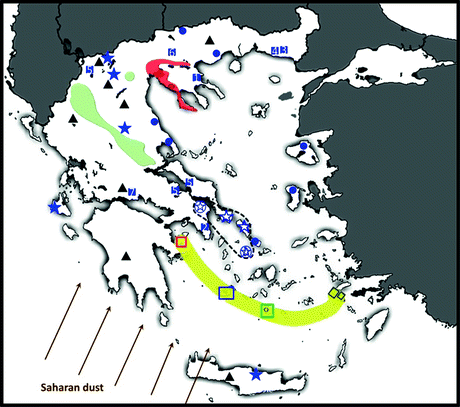 Keywords
Arsenic 
Geothermal 
Greece 
Minerals 
Ores 
Volcanoes 
Abbreviations
BAB

Back-arc basin

MLC

Megalopolis lignite center

MOR

Mid-ocean ridge

P-ALC

Ptolemais-amynteon lignite center

SAAVA

South aegean active volcanic arc

SWAT

Soil and water assessment tool

UCC

Upper continental crust
Notes
Acknowledgements
We would like to kindly thank Prof. Thomas J. Walsh, MD (Professor of Medicine in Microbiology and Immunology, Weill Cornell Medical College, USA) for critical reading and fruitful comments on the manuscript. We also thank Assist. Prof. Panagiotis Voudouris (Faculty of Geology & Geoenvironment, University of Athens, Greece) for critical discussion and comments concerning As-minerals in Lavrion historical mines and Perama Hill epithermal Au–Ag deposit (Thrace).
Copyright information
© Springer-Verlag Berlin Heidelberg 2013