Material Functionalization of Cellulose and Related Polysaccharides via Diverse Microcompositions
Part of the Advances in Polymer Science book series (POLYMER, volume 205)
Abstract
This review surveys advances in current studies of a variety of polymer compositional materials based on cellulose and related polysaccharides, the major studies being directed toward elaborate designs of environmentally conformable and/or biocompatible materials or highly functionalized material systems for many-faceted prospective applications. The scope covers graft copolymerization, miscible or compatible polymer blending and interpenetration, nanohybridization with inorganic minerals, surface modification of matrices, and mesoscopic self-assembling such as the formation of liquid crystals. In each individual case, it will be shown that cellulosic polysaccharides are microscopically incorporated and cooperatively interact with other adequate polymeric or inorganic ingredients to attain some functional objective. However, essential factors are the inherent characteristics of cellulosic polymers, such as the reactivity allowing hydroxyl substitution, hydrogen-bonding formability, complexing ability, semi-rigidity, chirality, etc. Material functionalities arousing interest include highly controllable biodegradability coupled with ease of processing for relatively common use as consumables, and further extensions for special uses, from mechanical and adsorptive performance to use in novel optical, electro-optical, and ion-conductive devices, etc.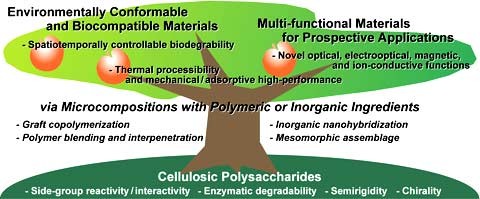 Cellulose 
Polysaccharides 
Functionalization 
Microcomposition 
Graft copolymers 
Polymer blends 
Naonocomposites 
Liquid crystals 
Abbreviations
AFM

Atomic force microscopy

ATR-FTIR

Attenuated total-reflection Fourier-transform infrared spectroscopy

ATRP

Atom-transfer radical polymerization

BC

Bacterial cellulose

CA

Cellulose acetate

CAB

Cellulose acetate butyrate

CAP

Cellulose acetate propionate

CAPh

Cellulose acetate hydrogen phthalate

CB

Cellulose butyrate

CELL

Cellulose

CE

Cellulose ester

CL

ε-Caprolactone

CMC

Carboxymethyl cellulose

CP

Cellulose propionate

CTC

Cellulose tricarbanilate

CV

Cellulose valerate

DCA

Dichloroacetic acid

DD

Degree of deacetylation

ΔHf

Enthalpy of fusion

DMAc-LiCl

N,N-Dimethylacetamide-lithium chloride

DMSO

Dimethyl sulfoxide

DS

Degree of substitution

DSC

Differential scanning calorimetry

EC

Ethyl cellulose

(E-CE)C

Ethyl-cyanoethyl cellulose

ETBE

Ethyl tert-butyl ether

H

Applied magnetic field

HAp

Hydroxyapatite

Hc

Coercive force

HECA

Hydroxyethyl cellulose acetate

HPC

Hydroxypropyl cellulose

IPN

Interpenetrating network

LA

D,L-lactic acid

LCST

Lower critical solution temperature

LDH

Layered double hydroxide

M

Magnetization

MA

Methyl acrylate

MMA

Methyl methacrylate

Mr

Remanent magnetization

MRI

Magnetic resonance imaging

MS

Molar substitution

Ms

Saturation magnetization

NCA

N-Carboxy α-amino acid anhydride

NMMO

N-Methylmorpholine N-oxide

NMP

N-Methyl-2-pyrrolidone

P

Cholesteric (or chiral nematic) pitch

PA66

Aliphatic polyamide 66

PAA

Poly(acrylic acid)

PACMO

Poly(acryloyl morpholine)

PAN

Poly(acrylonitrile)

PCL

Poly(ε-caprolactone)

P26ClPTA

Poly(2,6-dichloro-1,4-phenylene terephthalamide)

PDMAm

Poly(N,N-dimethylacrylamide)

PEG

Poly(ethylene glycol)

PEO

Poly(ethylene oxide)

PF

Paraformaldehyde

PHA

Poly(hydroxyalkanoate)

PHB

Poly(3-hydroxybutyrate)

PHBV

Poly(3-hydroxybutyrate-co-3-hydroxyvalerate)

PLA

Poly(lactic acid)

PLLA

Poly(L-lactic acid) or poly(L-lactide)

PMMA

Poly(methyl methacrylate)

PVA

Poly(vinyl alcohol)

PVAc

Poly(vinyl acetate)

PVP

Poly(N-vinyl pyrrolidone)

P(VP-co-GMA)

Poly(N-vinyl pyrrolidone-co-glycidyl methacrylate)

P(VP-co-VAc)

Poly(N-vinyl pyrrolidone-co-vinyl acetate)

PVPh

Poly(vinyl phenol)

P4VPy

Poly(4-vinylpyridine)

SnOct2

Tin octoate (or tin(II) 2-ethylhexanoate)

SPM

Superparamagnetic

T1ρH

Proton spin-lattice relaxation time in the rotating frame

t-BuOK

Potassium tert-butoxide

Tc

Cloud point

TEC

Triethyl citrate

TEOS

Tetraethylorthosilicate

Tg

Glass-transition temperature

THF

Tetrahydrofuran

Tm

Melting temperature

TMOS

Tetramethoxyorthosilicate

TMP

Thermomechanical wood pulp

TMS

Trimethylsilyl

TPEOCELL

6-O-Trityl-2,3-O-diPEOcellulose

VA

Vinyl alcohol

WISE

Wide line separation

λM

Wavelength of maximum light reflectance
Notes
Acknowledgments
The author is greatly indebted to Professor S. Kobayashi of Kyoto University and to Professor D. Klemm of Friedrich-Schiller-Universität, Jena for their encouragement and helpful discussions as well as for their kind invitation to contribute to this special volume. The author also wishes to express his thanks to Drs. Y. Miyashita and Y. Teramoto, and to the graduate students R. Chiba and T. Ohno in my laboratory for their assistance in the preparation of this chapter.
Copyright information
© Springer-Verlag Berlin Heidelberg 2006