Abstract
In recent years, 3D printing has had a huge impact on the field of biotechnology: from 3D-printed pharmaceuticals to tissue engineering and microfluidic chips. Microfluidic chips are of particular interest and importance for the field of biotechnology, since they allow for the analysis and screening of a wide range of biomolecules – including single cells, proteins, and DNA. The fabrication of microfluidic chips has historically been time-consuming, however, and is typically limited to 2.5 dimensional structures and a restricted palette of well-known materials. Due to the high surface-to-volume ratios in microfluidic chips, the nature of the chip material is of paramount importance to the final system behavior. With the emergence of 3D printing, however, a wide range of microfluidic systems are now being printed for the first time in a manner that facilitates flexibility while minimizing time and cost. Nevertheless, resolution and material choices still remain challenges and in the focus of current research, aiming for (1) 3D printing with high resolutions in the range of tens of micrometers and (2) a wider range of available materials for these high-resolution prints. The first part of this chapter highlights recent emerging technologies in the field of high-resolution printing via stereolithography (SL) and 2-photon polymerization (2PP) and seeks to identify particularly interesting emerging technologies which could have a major impact on the field in the near future. The second part of this chapter highlights current developments in the field of materials that are used for these high-resolution 3D printing technologies.
Graphical Abstract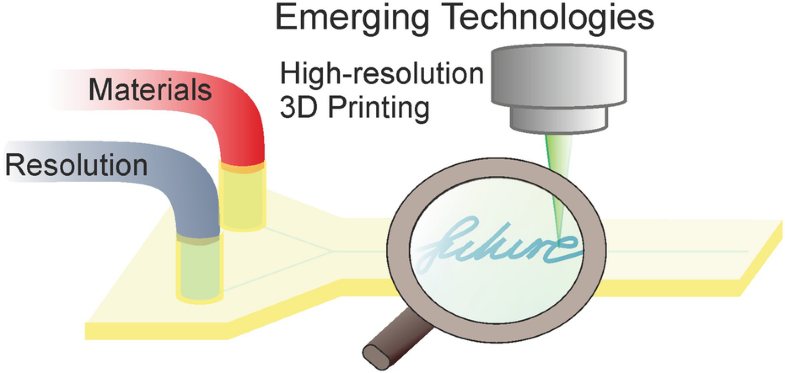 Keywords
2-photonpolymerization 
3D printed microfluidics 
Materials 
Stereolithography 
Notes
Acknowledgments
BER thanks the German Research Foundation (Deutsche Forschungsgemeinschaft, DFG) for funding through the Center for Excellence livMatS Exec 2193/1 – 390951807.
Copyright information
© Springer Nature Switzerland AG 2020