Abstract
Yeasts are valuable hosts for recombinant protein production, as these unicellular eukaryotes are easy to handle, grow rapidly to a high cell density on cost-effective defined media, often offer a high space–time yield, and are able to perform posttranslational modifications. However, a key difference between yeasts and mammalian cells involves the type of glycosylation structures, which hampers the use of yeasts for the production of many biopharmaceuticals. Glycosylation is not only important for the folding process of most recombinant proteins; it has a large impact on pharmacokinetics and pharmacodynamics of the therapeutic proteins as well. Yeasts' hypermannosylated glycosyl structures in some cases can evoke immune responses and lead to rapid clearance of the therapeutic protein from the blood. This chapter highlights the efforts made so far regarding the glyco-engineering of N- and O-type glycosylation, removing or reducing yeast-specific glycans. In some cases, this is combined with the introduction of humanized glycosylation pathways. After many years of patient development to overcome remaining challenges, these efforts have now culminated in effective solutions that should allow yeasts to reclaim the primary position in biopharmaceutical manufacturing that they enjoyed in the early days of biotechnology.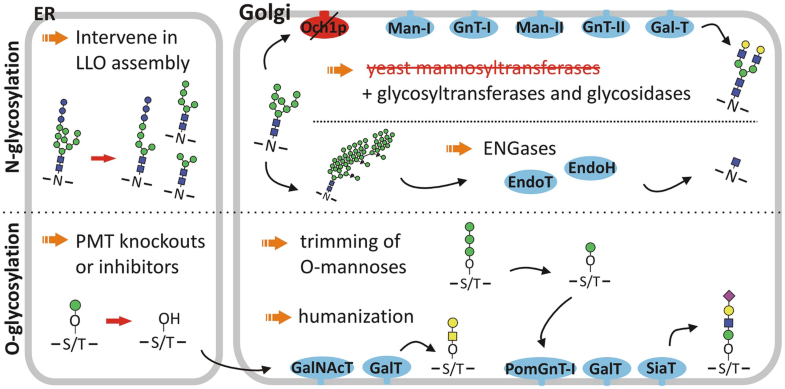 Keywords
Fungi 
N-glycosylation engineering 
O-glycosylation engineering 
Pichia pastoris
Recombinant protein expression 
Saccharomyces cerevisiae
Yeast 
Abbreviations
ADCC

Antibody-dependent cell-mediated cytotoxicity

ALG

Asparagine-linked glycosylation

AOX1/2

Alcohol oxidase 1/2

Asn

Asparagine

AtFXGER1

A. thaliana GDP-4-keto-6-deoxy-mannose-3,5-epimerase

Bmtp

β-mannosyltransferase

CDC

Complement-dependent cytotoxicity

CHO

Chinese hamster ovary

CI-MPR

Cation independent-mannose-6-phosphate receptor

CNX/CRT

Calnexin/calreticulin

CRISPR/Cas9

Clustered regularly interspaced short palindromic repeats/CRISPR-associated protein 9

EDEM

ER degradation-enhanced α-1,2-mannosidase protein

Endo H/T

ENGase H/T

ENGase

Endo-β-N-acetylglucosaminidase

ER

Endoplasmatic

ERAD

ER-associated degradation

ERT

Enzyme replacement therapy

Fringe

Human β-1,3-N-acetylglucosaminyltransferase

GAA

Acid glucosidase α

Gal

Galactose

GalE

UDP-galactose-4-epimerase

GalNAc

N-acetylgalactosamine

GalT

Galactosyltransferase

Glc

Glucose

GlcNAc

N-acetylglucosamine

GLS-I/II

Glucosidase I/II

GM-CSF

Granulocyte-macrophage colony stimulating factor

GnT-I/II/III/IV

N-acetylglucosaminyltransferase I/II/III/IV

HBV

Hepatitis B virus

HER2

Human epidermal growth factor receptor 2

hO-FucT-1

Human O-fucosyltransferase-1

HPV

Human papillomavirus

HR

Homologous recombination

LLO

Lipid-linked oligosaccharide

mAbs

Monoclonal antibodies

Man

Mannose

Man-I/II

Mannosidase I/II

Mnn

(Phospho)mannosyltransferase

M-Pol I

Mannan-polymerase complex

NHEJ

Nonhomologous end joining

ORF

Open reading frame

OST

Oligosaccharyltransferase complex

P

Phosphate

PMT

Protein-O-mannosyltransferase

PomGnT-I

Protein-O-linked mannose β-1,2-N-acetylglucosaminyltransferase-I

POT

Protozoan single-subunit oligosaccharyltransferase

ppGalNAcT

Polypeptide:N-acetylglucosaminyltransferase

Pro

Proline

Rft1p

Flippase

rhEPO

Recombinant human erythropoietin

Ser

Serine

sgRNA

Short guide RNA

SiaT

Sialyltransferase

Thr

Threonine
Notes
Acknowledgments
C. De Wachter holds a strategic basic research fellowship of the Flanders Institute for Innovation by Science and Technology (IWT). L. Van Landuyt holds a strategic basic research fellowship of the Flanders Fund for Scientific Research (FWO-Vlaanderen, Application 1S54817N). This work was funded in part by an ERC consolidator grant ("GlycoTarget", 616966), GOA Project 01G01412 (Ghent University), and BOF17-GOA-018, as well as by Grant G041417N of FWO-Vlaanderen.
Copyright information
© Springer International Publishing AG, part of Springer Nature 2018