Abstract
Introduction of induced pluripotent stem cell (iPSC) technology and site-directed nucleases brought a major breakthrough in the development of regenerative therapies and biomedical research. With the advancement of ZFNs, TALENs, and the CRISPR/Cas9 technology, straightforward and precise manipulation of the genome of human pluripotent stem cells (PSC) became possible, allowing relatively easy and fast generation of gene knockouts, integration of transgenes, or even introduction of single nucleotide changes for correction or introduction of disease-specific mutations. We review current applications of site-specific nucleases in human PSCs and focus on trends and challenges for efficient gene editing and improvement of targeting strategies.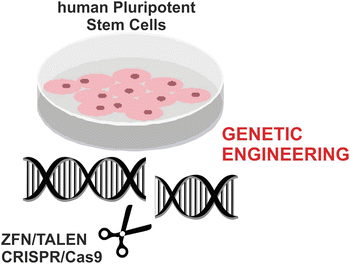 Keywords
CRISPR/Cas9 
Homologous recombination 
NHEJ 
TALEN 
ZFN 
Abbreviations
2A

Self-cleaving peptide sequence

AAVS1

Adeno-associated virus integration site 1 (safe harbor site)

ABCA1

ATP-binding cassette subfamily A member 1

AKT2

AKT serine/threonine protein kinase 2

ALS

Amyotrophic lateral sclerosis

B2M

Beta-2-microglobulin

CAG

Cytomegalovirus early enhancer element coupled to chicken beta-actin promoter

CAS

CRISPR-associated system

CCR5

C-C motif chemokine receptor 5

CLYBL

Citrate lyase beta-like

CRISPR

Clustered regularly interspaced short palindromic repeats

DNMT3B

DNA methyltransferase 3B

DSB

Double-strand break

EZH2

Enhancer of zeste homolog 2

GATA4

GATA binding protein 4

H3K4/K9

His 3, Lys 4 or Lys 9

HR

Homologous recombination

ICF

Immunodeficiency-centromeric region instability-facial anomalies syndrome

iPSC

Induced pluripotent stem cell

MHC

Myosin heavy chain

NGN3

Neurogenein 3

NHEJ

Nonhomologous end joining

OCT4

Octamer-binding protein 4

PAM

Protospacer adjacent motif

PSC

Pluripotent stem cells

SORT1

Sortilin 1

ssODN

Single-stranded oligonucleotide

TALEN

Transcription activator-like effector nuclease

ZFN

Zinc-finger nuclease
Notes
Acknowledgments
We thank R. Zweigerdt for contributing to fruitful discussions and critical reading of the manuscript, and R. Olmer for providing microscopy images of endothelial cells.
Copyright information
© Springer International Publishing AG 2017