Abstract
Insect antennae are among the most sensitive and selective chemical-sensing organs in the animal kingdom. Insects can perceive picograms of specific volatile organic compounds per cubic meter of air in milliseconds, which is far below the detection thresholds of current analytical devices. These exceptional sensing abilities have many uses in the context of insect biotechnology. Living specimens or parts of them, such as isolated antennae or individual proteins, can serve as biosensors in the field. As volatiles occur in a crude mixture in the environment, knowing which trigger-volatiles are crucial for the insects' perception of specific incidents is of great value. This knowledge promotes the development of selective sensors for applications, such as fire detection. In this chapter, we discuss the different technical procedures for the preparation and use of insect-based biosensors for the detection of organic volatiles, including those based on insect behavior, insect olfactory proteins, and biomimetic sensing units. We also consider the use of these applications in portable devices outside the laboratory under field conditions.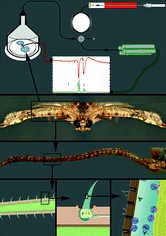 Keywords
Biosensor 
Electroantennography 
GC–MS/EAD 
Mobile GC–MS 
Needle-trap device 
Odorant receptor 
VOC detection 
VOC quantification 
Abbreviations
EAG

Electroantennography

EAD

Electroantennographic detection

FETs

Field-effect transistors

FID

Flame ionization detector

GC

Gas-chromatography

MS

Mass-spectrometry

NTD

Needle-trap device

OBPs

Odorant-binding proteins

ORs

Odorant-receptors

POM

Polyoxymethylen

SSRs

Single-sensillum recordings

SPME

Solid-phase microextraction

VOCs

Volatile organic compounds
Notes
Acknowledgments
The authors would like to acknowledge project funding provided by the Hessian Ministry of Science and Art via the LOEWE research focus "AmbiProbe" and the LOEWE research focus "Insect Biotechnology," which included a generous grant to A.V. We thank Merid Negash Getahun and Dr. Shannon Olsson for their support with the SSR measurements. The authors are indebted to Dr. Richard M. Twyman for the careful editing of the manuscript.
Copyright information
© Springer-Verlag Berlin Heidelberg 2013