Abstract
The main goal of cell-free protein synthesis is to produce correctly folded and functional proteins in reasonable amounts for further downstream applications. Especially for eukaryotic proteins, functionality is often directly linked to the presence of posttranslational modifications. Thus, it is of highest interest to develop novel cell-free expression systems that enable the synthesis of posttranslationally modified proteins. Here we present recent advances for the synthesis of glycoproteins, proteins containing disulfide bridges, membrane proteins, and fluorescently labeled proteins. The basis for the expression of these difficult-to-express target proteins is a translationally active cell extract which can be prepared from eukaryotic cell lines such as Spodoptera frugiperda 21 (Sf21) and Chinese hamster ovary (CHO) cells. Due to a very mild lysate preparation procedure, microsomal vesicles derived from the endoplasmic reticulum (ER) can be maintained in the eukaryotic lysate. These vesicles are translocationally active and serve as functional modules facilitating protein translocation and enrichment as well as posttranslational modification of de novo synthesized proteins. In particular, for the synthesis of membrane proteins microsomal vesicles are the essential prerequisite for the insertion of the desired protein into a biologically active membrane scaffold providing a natural environment. We anticipate that the use of such translationally active eukaryotic cell lysates containing translocationally active vesicles may solve a large number of problems still persistent when expressing eukaryotic proteins in vitro.
Graphical Abstract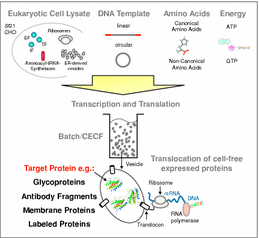 Keywords
Cell-free protein synthesis 
Fluorescent label 
GUV 
In vitro translation 
Insect cell lysate 
Membrane protein 
Microsome 
Noncanonical amino acid 
Orthogonal tRNA/Synthetase pair 
Posttranslational modification 
Single-chain antibody (scFv) 
Vesicle 
Abbreviations
ATP

Adenosine-5'-triphosphate

AzPhe

p-azido-l-phenylalanine

AzPheRS

Orthogonal mutant synthetase specific for AzPhe

BP

Bandpass filter

CECF

Continuous-exchange cell-free

CFCF

Continuous-flow cell-free

CHO

Chinese hamster ovary

CLSM

Confocal laser scanning microscopy

CrPV

Cricket paralysis virus

DDM

n-dodecyl-ß-maltoside

DTT

Dithiothreitol

E. coli

Escherichia coli

EndoH

Endoglycosidase H

E-PCR

Expression-PCR

EPO

Erythropoietin

ER

Endoplasmic reticulum

eYFP

Enhanced yellow fluorescent protein

Fab

Fragment, antigen-binding

FITC

Fluorescein isothiocyanate

Fv

Antibody variable fragment

GTP

Guanosine-5'-triphosphate

GUV

Giant unilamellar vesicle

IGR

Intergenic region

IRES

Internal ribosome entry site

KD

Association equilibrium constant

Mel

Melittin

PAGE

Polyacrylamide gel electrophoresis

PDI

Protein disulfide isomerase

PI

Protease inhibitors

PNGaseF

N-glycosidase F

PTM

Posttranslational modification

RU

Resonance units

scFv

Single-chain antibody fragment

SDS

Sodium dodecyl sulfate

Sf21

Spodoptera frugiperda 21

SN1

Supernatant 1

SN2

Supernatant 2

SPR

Surface plasmon resonance

TCA

Trichloroacetic acid

TM

Translation mixture

tRNACUA

Amber suppressor tRNA

VF1

Vesicular fraction 1

VF2

Vesicular fraction 2
Notes
Acknowledgments
The authors gratefully acknowledge Dipl.-Ing. Doreen Wüstenhagen, Dipl. Nutritional Scientist Conny Mascher, and Birgit Hollmann (Fraunhofer IBMT, Potsdam-Golm, Germany) for preparing cell-free extracts and in general, for keeping things running in our cell-free lab. Furthermore, we thank Dr. Walter Stöcklein (Fraunhofer IBMT, Potsdam-Golm, Germany) for his excellent support regarding SPR measurements as well as Prof. Burkhard Micheel (University of Potsdam, Germany) for providing the Anti-FITC monoclonal antibody. Moreover, we thank Jörg Schenk (Hybrotec GmbH, UP Transfer GmbH, Potsdam-Golm, Germany) for delivering the DNA template encoding the Anti-FITC scFv as well as for the scientific support and many fruitful discussions. Plasmids encoding the membrane proteins Hb-EGF, EGFR, and ETB were kindly provided by Prof. Michael Schaefer (Universität Leipzig, Germany). We also wish to express our considerable thanks to Dr. Susanne Fenz (Universität Würzburg, Germany) and Prof. Thomas Schmidt (Leiden University, The Netherlands) for their collaboration regarding the GVU formation process. Our special thanks go to Dipl.-Translator Marie Burger, Dipl.-Chem. Devid Mrusek, and Dipl.-Biochem. Christian Hoffmeister (Fraunhofer IBMT, Potsdam-Golm, Germany) for their careful revision of this manuscript. This research is supported by the German Ministry of Education and Research (BMBF No. 0312039).
Copyright information
© Springer-Verlag Berlin Heidelberg 2013