Abstract
This work presents a review of studies on the process economics of ethanol production from lignocellulosic materials published since 1996. Our objective was to identify the most costly process steps and the impact of various parameters on the final production cost, e.g. plant capacity, raw material cost, and overall product yield, as well as process configuration. The variation in estimated ethanol production cost is considerable, ranging from about 0.13 to 0.81 US$ per liter ethanol. This can be explained to a large extent by actual process differences and variations in the assumptions underlying the techno-economic evaluations. The most important parameters for the economic outcome are the feedstock cost, which varied between 30 and 90 US$ per metric ton in the papers studied, and the plant capacity, which influences the capital cost. To reduce the ethanol production cost it is necessary to reach high ethanol yields, as well as a high ethanol concentration during fermentation, to be able to decrease the energy required for distillation and other downstream process steps. Improved pretreatment methods, enhanced enzymatic hydrolysis with cheaper and more effective enzymes, as well as improved fermentation systems present major research challenges if we are to make lignocellulose-based ethanol production competitive with sugar- and starch-based ethanol. Process integration, either internally or externally with other types of plants, e.g. heat and power plants, also offers a way of reducing the final ethanol production cost.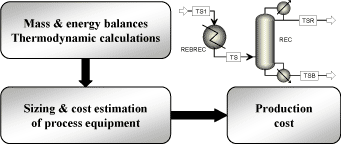 Bioethanol production 
Biomass 
Flowsheeting 
Process economics 
References
1.

Soccol CR, Vandenberghe LPS, Costa B, Woiciechowski AL, de Carvalho JC, Medeiros ABP, Francisco AM, Bonomi LJ (2005) J Sci Ind Res 64:879

Google Scholar

2.

3.

Rosentrater KA, Muthukumarappan K (2006) Int Sugar J 108:648

Google Scholar

4.

Gulati M, Kohlmann K, Ladisch MR, Hespell R, Bothast RJ (1996) Bioresour Technol 58:253

CrossRef

Google Scholar

5.

6.

USDepartment of Energy (2006) Biomass as feedstock for a bioenergy and bioproducts industry: The technical feasibilty of a billion-ton annual supply. Report ORNL/TM-2005/66. US Department of Energy, Washington DC, USA

Google Scholar

7.

8.

9.

European Union (2006) Directive 2003/30/EC of the European Parliament and of the Council of 8 May 2003 on the promotion of the use of biofuels or other renewable fuels for transport. ISSN: 1725-2423. European Union, Brussels, Belgium

Google Scholar

10.

Keller FA (1996) Integrated bioprocess development. In: Wyman CE (ed) Handbook on Bioethanol: Production and Utilization. Taylor & Francis, Washington DC, p 351

Google Scholar

11.

12.

13.

14.

15.

16.

Wooley RJ, Ruth MF, Sheehan J, Ibsen K (1999) NREL/TP-580-26157

Google Scholar

17.

Wingren A (2005) Ethanol from Softwood: Techno-Economic Evaluation for Development of the Enzymatic Process (PhD thesis). Lund University, Sweden

Google Scholar

18.

McAloon A, Taylor F, Yee W, Ibsen K, Wooley RJ (2000) NREL/TP-580-28893

Google Scholar

19.

20.

Sassner P, Galbe M, Zacchi G (2006) Biomass Bioenergy (in press)

Google Scholar

21.

22.

Wooley R, Putsche V (1996) Development of an ASPEN PLUS physical property database for biofuel components. NREL, Golden, CO, USA

Google Scholar

23.

24.

Stone K, Lynd LR (1995) 16th Symp Biotechnol Fuels Chemicals, p 569

Google Scholar

25.

26.

Aden A, Ruth MF, Ibsen K, Jechura J, Neeves K, Sheehan J, Wallace B (2002) NREL/TP-510-32438

Google Scholar

27.

28.

US Department of Energy (2003) Road map for agricultural biomass feedstock supply in the US. US Dept of Energy, Washington DC, USA

Google Scholar

29.

Swedish Energy Agency (2005) Energy in Sweden. Facts and figures 2005. Swedish Energy Agency, Eskilstuna, Sweden

Google Scholar

30.

31.

Wyman CE, Dale BE, Elander RT, Holtzapple M, Ladisch MR, Lee YY (2005) Bioresour Technol 96:1959

CrossRef

Google Scholar

32.

33.

34.

35.

36.

37.

Fransson G, Lindstedt J, Sundlöf L, Wiklund K-G (2000) Dilute Acid Hydrolysis of Cellulose on Pilot and Full scale. Energicentrum Norr, Örnsköldsvik, Sweden (in Swedish)

Google Scholar

38.

39.

40.

41.

42.

43.

Lissens G, Klinke H, Verstraete W, Ahring B, Thomsen AB (2004) J Chem Technol Biotechnol 79:889

CrossRef

Google Scholar

44.

Kadam KL, Wooley R, Aden A, Nguyen QA, Yancey MA, Ferraro FM (2000) Biotechnol Prog 16:947

CrossRef

Google Scholar

45.

46.
Copyright information
© Springer-Verlag Berlin Heidelberg 2007