Lecture Notes in Electrical Engineering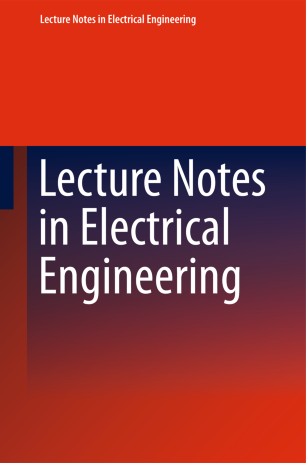 About this series
** Indexing: The books of this series are submitted to ISI Proceedings, EI-Compendex, SCOPUS, MetaPress, Springerlink **
Lecture Notes in Electrical Engineering (LNEE) is a book series which reports the latest research and developments in Electrical Engineering, namely:
Communication, Networks, and Information Theory
Computer Engineering
Signal, Image, Speech and Information Processing
Circuits and Systems
Bioengineering
Engineering.
The audience for the books in LNEE consists of advanced level students, researchers, and industry professionals working at the forefront of their fields. Much like Springer's other Lecture Notes series, LNEE will be distributed through Springer's print and electronic publishing channels.
For general information about this series, comments or suggestions, please use the contact address under "service for this series".
To submit a proposal or request further information, please contact the appropriate Springer Publishing Editors:
Asia:
China, Jasmine Dou, Associate Editor (jasmine.dou@springer.com)
(Electrical Engineering)
India, Swati Meherishi<, Senior Editor (swati.meherishi@springer.com)
(Engineering)
Japan, Takeyuki Yonezawa, Editorial Director (takeyuki.yonezawa@springer.com)
(Physical Sciences & Engineering)
South Korea, Smith (Ahram) Chae, Associate Editor (smith.chae@springer.com)
(Physical Sciences & Engineering)
Southeast Asia, Ramesh Premnath, Editor (ramesh.premnath@springer.com)

( Electrical Engineering)
South Asia, Aninda Bose, Editor (aninda.bose@springer.com)
(Electrical Engineering)
Europe:
Leontina Di Cecco, Editor
(Leontina.dicecco@springer.com)
(Applied Sciences and Engineering; Bio-Inspired Robotics, Medical Robotics, Bioengineering; Computational Methods & Models in Science, Medicine and Technology; Soft Computing; Philosophy of Modern Science and Technologies; Mechanical Engineering; Ocean and Naval Engineering; Water Management & Technology)

(christoph.baumann@springer.com)
(Heat and Mass Transfer, Signal Processing and Telecommunications, and Solid and Fluid Mechanics, and Engineering Materials)
North America:
Michael Luby, Editor (michael.luby@springer.com)
(Mechanics; Materials)