Frontiers in Chinese Linguistics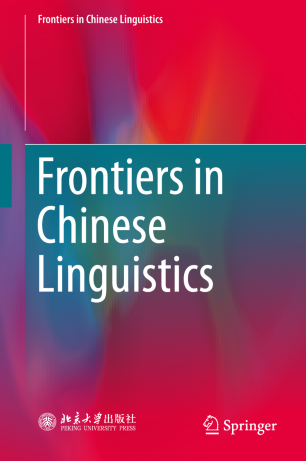 About this series
Frontiers in Chinese Linguistics (FiCL) is a book series jointly published by Springer-Nature and Peking University Press. FiCL aims to publish original and innovative research outcome in the fast expanding and developing discipline of Chinese language sciences. FiCL welcomes submissions of proposals of the following types of books on issues related to Chinese language and linguistics: selection of post-conference papers from leading edge prestigious conferences and workshops; monograph on research with potential to open new frontiers; and outstanding dissertations dealing with new issues and new methodologies. FiCL volumes will be published by Springer with worldwide distribution and by Peking University Press in China. FiCL is the sister series of 语言学前沿, a prestigious book series published in Chinese by Peking University Press introducing new theories and new ideas in Chinese linguistics.
Submission and Peer Review:
The editor welcomes book proposals from experienced scholars as well as young aspiring researchers. Please send a short description of 500 words to the Springer Senior Publishing Editor Rebecca Zhu: Rebecca.zhu@springernature.com. All proposals will undergo peer review to permit an initial evaluation. If accepted, the final manuscript will be peer reviewed internally by the series editor as well as externally (single blind) by Springer ahead of acceptance and publication.

In order to safeguard the quality of its publications, Springer has updated the policy on Publishing Ethics. In line with the philosophy of the Committee on Publishing Ethics (COPE) we follow the principle that we have a prime duty to maintain the integrity of the scientific record. By providing Springer's Guide on Publishing Ethics, we aim to optimally assist Springer Publishing Editors as well as Editors-in-Chief, Editors, Reviewers and Authors with this task. Please refer to the following relative hyperlink: https://www.springer.com/gp/editorial-policies.