Palgrave Studies in Young People and Politics
Book Series
There are 7 volumes in this series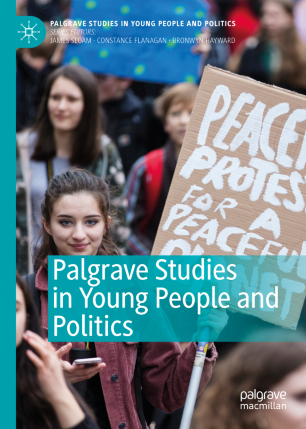 About this series
Over the past few decades, many democracies have experienced low or falling voter turnout and a sharp decline in the members of mainstream political parties. These trends are most striking amongst young people, who have become alienated from mainstream electoral politics in many countries across the world. Young people are today faced by a particularly tough environment. From worsening levels of child poverty, to large increases in youth unemployment, to cuts in youth services and education budgets, public policy responses to the financial crisis have placed a disproportionate burden on the young.
This book series will provide an in-depth investigation of the changing nature of youth civic and political engagement. We particularly welcome contributions looking at:
• Youth political participation: for example, voting, demonstrations, and consumer politics
• The engagement of young people in civic and political institutions, such as political parties, NGOs and new social movements
• The influence of technology, the news media and social media on young people's politics
• How democratic innovations, such as social institutions, electoral reform, civic education, can rejuvenate democracy
• The civic and political development of young people during their transition from childhood to adulthood (political socialisation)
• Young people's diverse civic and political identities, as defined by issues of gender, class and ethnicity
• Key themes in public policy affecting younger citizens – e.g. youth (un)employment and education
• Cross-cutting themes such as intergenerational inequality, social mobility, and participation in policy-making – e.g. school councils, youth parliaments and youth wings of political parties
The series will incorporate a mixture of pivot publications (25,000-50,000 words), full-length monographs and edited volumes that will analyse these issues within individual countries, comparatively, and/ or through the lenses of different case studies.