Perspectives in Law, Business and Innovation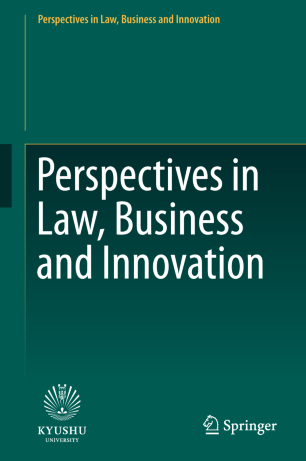 About this series
Over the last three decades, interconnected processes of globalization and rapid technological change — particularly, the emergence of networked technologies — have profoundly disrupted traditional models of business organization. This economic transformation has created multiple new opportunities for the emergence of alternate business forms, and disruptive innovation has become one of the major driving forces in the contemporary economy. Moreover, in the context of globalization, the innovation space increasingly takes on a global character. The main stakeholders — innovators, entrepreneurs and investors — now have an unprecedented degree of mobility in pursuing economic opportunities wherever they arise. As such, frictionless movement of goods, workers, services, and capital is becoming the "new normal".
This new economic and social reality has created multiple regulatory challenges for policymakers as they struggle to come to terms with the rapid pace of these social and economic changes. Moreover, these challenges impact across multiple fields of both public and private law. Nevertheless, existing approaches within legal science often struggle to deal with innovation and its effects.
Paralleling this shift in the economy, we can, therefore, see a similar process of disruption occurring within contemporary academia, as traditional approaches and disciplinary boundaries — both within and between disciplines — are being re-configured. Conventional notions of legal science are becoming increasingly obsolete or, at least, there is a need to develop alternative perspectives on the various regulatory challenges that are currently being created by the new innovation-driven global economy.

The aim of this series is to provide a forum for the publication of cutting-edge research in the fields of innovation and the law from a Japanese and Asian perspective. The series will cut across the traditional sub-disciplines of legal studies but will be tied together by a focus on contemporary developments in an innovation-driven economy and will deepen our understanding of the various regulatory responses to these economic and social changes.

The series editor and editorial board carefully assess each book proposal and sample chapters in terms of their relevance to law, business, and innovative technological change. Each proposal is evaluated on the basis of its academic value and distinctive contribution to the fast-moving debate in these fields.
All books and chapters in the Perspectives in Law, Business and Innovation book series are indexed in Scopus.

Series Editor:

Toshiyuki Kono (Professor, Faculty of Law, Kyushu University, Fukuoka, Japan)
Editorial Board:

Erik P. M. Vermeulen (Professor of Business & Financial Law, Tilburg University & Philips Lighting, The Netherlands)
Claire Hill (James L. Krusemark Chair in Law, University of Minnesota Law School, USA)
Wulf Kaal (Associate Professor & Director of the Private Investment Institute, University St. Thomas, USA)
Ylber A. Dauti (Founding Partner The Dauti Law Firm, PC, USA)
Pedro de Miguel Asensio (Professor, Complutense University of Madrid, Spain)
Nikolaus Forgo (Professor, University of Vienna, Austria)
Shinto Teramoto (Professor, Kyushu University, Japan)
Urs Gasser (Executive Director, Berkman Klein Center for Internet & Society at Harvard University; Professor of Practice, Harvard Law School, USA)