Microbial Processes and Products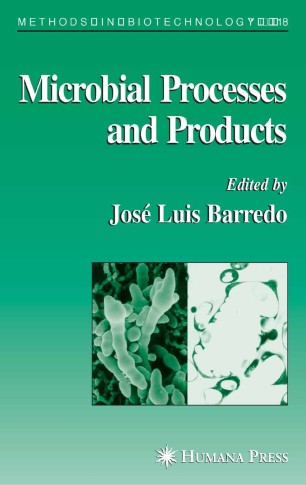 About this book
Introduction
The development of recombinant DNA techniques over the last 20 years has greatly expanded the opportunities for using microorganisms to produce a broad range of valuable substances. In Microbial Processes and Products, outstanding leaders in using microorganisms as cell factories describe in detail their best laboratory procedures for many processes and products mediated by microorganisms. An overview chapter describes how to develop strain improvement programs and strategies to optimize fermentation processes. Taking advantage of the most recent developments in such processes, the authors offer step-by-step experimental methods for the optimal design of microbial metabolite production, including semisynthetic derivatives of cephalosporins, erythromycin, antitumor compounds, plasmids for gene therapy and DNA vaccination, L-lysine, vitamins B2 and B12, the sweet-tasting protein thaumatin, the carotenoids b-carotene and astaxanthin, the polysaccharide gellan, and bacteria-producing bacteria for sausage fermentation. Additionally, the use of phenylacetyl-CoA catabolon for enzymatic synthesis of penicillins, aromatic biotransformations, synthesis of new bioplastics, biosensor design, or synthesis of drug vehicles, and the development of a phosphate encoding gene as a reporter and to monitor gene expression are illustrated.
The diverse chemicals and biochemicals produced can be used in human health, nutrition, and environmental protection. Additional chapters offer techniques for analysis of antimicrobial metabolites and carotenoids, volatile sulfur compounds, metabolic pathway fluxes, gene expression arrays, proteome analysis, bacterial modulation of the innate immune response, bioleaching activity, and heavy metal remediation. Finally, three overview chapters on transport of biological material, deposit of biological material for patent purposes, and protection of biotechnological inventions are shown. The protocols follow the successful Methods in Biotechnology™ series format, each offering step-by-step laboratory instructions, an introduction outlining the principle behind the technique, lists of the necessary equipment and reagents, and tips on troubleshooting and avoiding known pitfalls. A companion volume, Microbial Enzymes and Biotransformations, describes in detail cutting-edge techniques for the screening, evolution, production, immobilization, and use of enzymes.
Wide-ranging and practical, Microbial Processes and Products offers laboratory and industrial scientists a wealth of readily reproducible techniques for the successful microbial generation of biochemical products to serve the needs of human health, nutrition, and environmental protection.
Keywords
Acetyl-CoA
Bioleaching
Biosensor
Expression
Fermentation
Lysin
Polysaccharide
biotechnology
gene expression
gene therapy
microbiology
microorganism
mutagenesis
protein
transport
Bibliographic information
DOI

https://doi.org/10.1385/1592598471

Copyright Information

Humana Press 2005

Publisher Name

Humana Press

eBook Packages

Springer Protocols

Print ISBN

978-1-58829-548-4

Online ISBN

978-1-59259-847-2

Series Print ISSN

1940-6061

Series Online ISSN

1940-607X