© 2012
Lucretius as Theorist of Political Life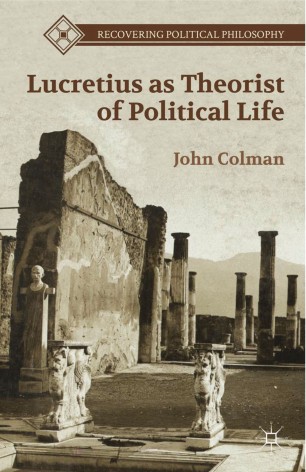 About this book
Introduction
"John Colman has presented us with a profound and scrupulously detailed inquiry into how Lucretius understood the tensions between the philosophic life and the requirements and characteristics of the life of political action—tensions with which Lucretius had to deal in his endeavor to bring philosophy into Rome." –
James H. Nichols, Jr.
, Professor of Government, Claremont McKenna College, USA
"Lucretius has been drawing renewed attention for both the depth of his message and the beauty of his poem. Nevertheless, only a few commentators are attentive to the paradox of a philosophic teaching that reduces everything to matter in motion in the form of a beautiful poem. John Colman represents the even more rare case of someone who sees this paradox and explains it intelligently. He is able to show the way Lucretius addresses those interested in beauty and those interested in politics in a work that appears to reject both." – Christopher Kelly, Professor of Political Science, Boston College, USA
"A careful study of Lucretius by a notable young scholar showing, not just assuming, that he had a politics. The result is to reveal how his politics compares with that in the Socratic tradition and how he was distorted by his modern students and interpreters." – Harvey C. Mansfield, Professor of Government at Harvard; Senior Fellow at the Hoover Institution, Stanford, USA
Lucretius as Theorist of Political Life is an interpretation of Lucretius' poem On the Nature of Things as a defense of philosophy given the irremediable tension between the competing claims of the philosophic and political life. The central issue is the need for, and attempt by, philosophy to justify and defend its way of life to the political community. This work uncovers how Lucretius' conception of the philosophic life, and the reaction to the human, religious, and political implications of the discovery of nature, distinguish his intention from the anti-theological animus that drives the politically and scientifically ambitious project of his modern appropriators.
Keywords
nature
philosophy
Political Life
Bibliographic information
Reviews
"John Colman has presented us with a profound and scrupulously detailed inquiry into how Lucretius understood the tensions between the philosophic life and the requirements and characteristics of the life of political action tensions with which Lucretius had to deal in his endeavor to bring philosophy into Rome." James H. Nichols, Jr., Professor of Government, Claremont McKenna College
"Lucretius has been drawing renewed attention for both the depth of his message and the beauty of his poem. Nevertheless, only a few commentators are attentive to the paradox of a philosophic teaching that reduces everything to matter in motion in the form of a beautiful poem. John Colman represents the even more rare case of someone who sees this paradox and explains it intelligently. He is able to show the way Lucretius addresses those interested in beauty and those interested in politics in a work that appears to reject both." - Christopher Kelly, Professor of Political Science, Boston College
"A careful study of Lucretius by a notable young scholar showing, not just assuming, that he had a politics. The result is to reveal how his politics compares with that in the Socratic tradition and how he was distorted by his modern students and interpreters." - Harvey C. Mansfield, Professor of Government at Harvard; Senior Fellow at the Hoover Institution, Stanford