© 2008
China and the United States
Cooperation and Competition in Northeast Asia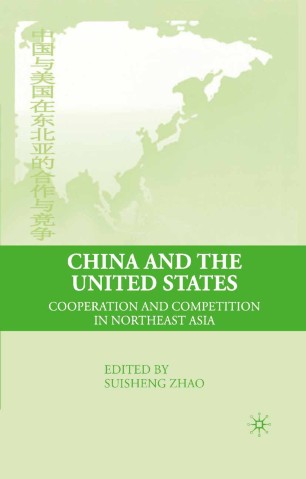 About this book
Introduction
In this edited volume, distinguished scholars and policy analysts explore how China's rise has brought great opportunities for cooperation as well as great challenges for geo-political competition between the United States and China.
Keywords
China
cooperation
crisis
North Korea
politics
state
transformation
Bibliographic information
Reviews
"There are a number of informative books on the market about U.S.-China relations. Some provide a broad overview of the development of Sino-American ties, while others focus on specific substantive issues that affect those ties. Some scrutinize domestic politics and policy-making in one or both countries, while others assess the impact of third countries on the Beijing-Washington connection. But this is the first book in recent memory to combine all four perspectives. Its chapters, each written by a recognized authority in the field, offer an inclusive, comprehensive assessment of the ever-shifting dynamics of the 21st century's most important strategic relationship." - Richard Baum, Professor of Political Science, UCLA and Author, China Watcher: Confessions of a Peking Tom
"Thisexcellent book provides a detailed and comprehensive examination of the domestic and international dimensions of China's rise as it affects Sino-American relations in Northeast Asia.Each of the authors is a well-established expert on one or more aspects of this complex topic. The resulting analysis offers new insights and in many instances challenges conventionalthinking regarding the prospects for competition versus cooperation between Beijing and Washington in what is arguably the most important region of the 21st century." - Michael D. Swaine, Senior Associate, China Program, Carnegie Endowment for International Peace.
"This is a welcome and pleasant addition to the study of Sino-U.S. relations. In addition to excellent examinations on the foreign policies of these two countries, this book also provides comprehensive analyses on other key players, such as Japan, Russia, Korea, and Taiwan. A must read for those concerned for the future of China and East Asian international relations." - Quansheng Zhao, Professor and Director of the Center for Asian Studies, American University
"Suisheng Zhao and his co-authors have produced a very sound volume. They focus on the revival of China as a great power and how the United States will face that challenge. They explore how that interaction will play out in relations with third countries - a particularly useful perspective." - Richard Bush, Director of the Center for Northeast Asian Policy Studies, Brookings Institution