© 2005
Carlo Tresca
Portrait of a Rebel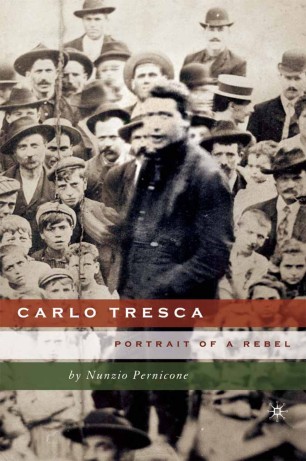 Table of contents
About this book
Introduction
In his heyday, Carlo Tresca ranked among the most important radicals and labour activists in the United States, often sharing the spotlight with Elizabeth Gurley Flynn, 'Big Bill' Haywood, and Emma Goldman. A charismatic Italian anarchist who became a folk hero to immigrant and native-born workers alike, Tresca was described by comrades as a 'freelance revolutionary' because of his independent spirit and militant activism. During his wild and adventurous career spanning nearly forty years (1904-1943), Tresca pursued a range of activities unmatched by any of his radical contemporaries: independent newspaper editor, labour agitator and organizer, civil libertarian, foremost leader of the Italian American anti-fascist resistance, and an indomitable foe of Stalinism. Culminating over a decade of research, this fast-paced and vivid biography brings to life the volatile world of radical politics in early twentieth-century America through one of its foremost figures.
Keywords
communism
fascism
revolution
USA
Bibliographic information
Reviews
"One could hardly find a more thorough and finely balanced investigation into the daily fabricof Tresca's life. Pernicone has brought to light and clarified myriad twists and turns of a sleepless fight, with a no-nonsense attitude which points straight to the nitty-gritty." - Journal of Modern Italian Studies"What comes out of this is a world that has barely been written about and never in-depth: the role of anarchists in the ILGWU and their role in the various factional fights, the role of anarchists in early anti-fascist organizations and again, their role in various factional fights. But what mainly comes out is both sides of the FBI's and the American Government's dalliances with Italian fascism. It is not for the faint of heart. It is a damning indictment." - Anarcho-Syndicalist Review"A major gap in the radical history of the United States has at last been filled . . . By recovering Tresca's story, Pernicone's work sheds light on the critical role of immigrants, both as leaders and as foot soldiers in creating and, at least for some time, consolidating a mass base of the Left." - Altreitalie "The book is extremely well written, with verve and punch.... It is the story of a colorful, heroic, flamboyant figure told in an accesible way that will earn a wide readership." - Philip V. Cannistraro, co-author of Il Duce's Other Woman
"Nunzio Pernicone has clarified and corrected the historical record, shedding new light on the meaning of Tresca s life and putting it fully into the context of a turbulent era. Based on an extraordinary amount of research in primary and secondary Italian and American sources, he has written the definitive biography of this charismatic and fearless rebel. For anyone interested in Italian-American studies, labor history, and radical politics - or who seeks an in-depth understanding of early twentieth century United States history - Pernicone s biography of Tresca is must reading." - Spencer M. Di Scala, Professor and History Graduate Program Director, University of Massachusetts Boston.
"Carlo Tresca finally has the biography which he richly deserves. Based on more than thirty years of research, Nunzio Pernicone has scrupulously and meticulously redeemed the life and death of one of the most charismatic figures in the history of American radicalism. With impressive scholarship, Pernicone portrays Tresca in the context of the Italian American labor and anti-fascist movements of which he was a central actor. Tresca emerges from this volume as a fearless and unrelentingchampion of liberty and justice." - Rudolph J. Vecoli, Professor of History, University of Minnesota