© 2005
Foreign Investment, Development, and Globalization
Can Costa Rica Become Ireland?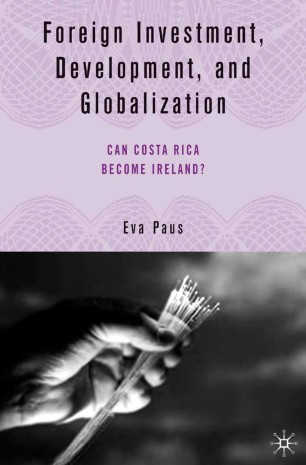 About this book
Introduction
This book engages the question, hotly debated among theorists and policymakers alike, of how a developing country's pursuit of foreign direct investment (FDI) affects its development prospects in a globalized world. Can small latecomers to economic development use high-tech FDI to rapidly expand indigenous capabilities, thus shortcutting stages of the industrialization process? What conditions, economic and non-economic, must be met for this strategy to succeed? Using the cases of Ireland and Costa Rica, the author shows how the dynamics of the FDI-development nexus have changed over time, rendering problematic Costa Rica's attempt, and those of other latecomers, to replicate the Celtic Tiger's success story.
Keywords
development
Economic Development
globalization
Policy
Bibliographic information
Reviews
"Many countries see foreign direct investment as their ticket to development. The much praised Celtic Tiger, Ireland, seems to have found the winning formula. Can it be a model for others...? Professor Paus' answer is, maybe. In, Foreign Investment, Development and Globalization, a fascinating and scholarly yet immediately relevant analysis, Paus shows exactly what Ireland did to attract, and more importantly, effectively use transnational corporations (TNC's) to help it develop, what the TNC's strategies were, and how the two meshed and sometimes failed to mesh in the process. She then looks deeply at Costa Rica's experience and, in highly detailed fashion, shows what Costa Rica's prospects are. Students, scholars and policy makers interested in this important but understudied issue of the role of TNC's in small countries will benefit greatly from this book...and are likely to find important lessons about TNC's and development that apply to all countries - no matter what their size." - Gerald Epstein, Professor of Economics and Co-Director, Political Economy Research Institute (PERI), University of Massachusetts, Amherst "In this well-argued and timely book, Eva Paus explores the conditions under which hi-tech foreign direct investment can promote sustained industrial upgrading in small developing countries. Through detailed case studies of Ireland and Costa Rica, Paus puts to rest the notion that there is anything automatic about FDI generating potential technological linkages or indigenous capabilities, and convincingly argues that this potential can only be realized through proactive government policies. While Paus is careful to show how successful outcomes are contingent on domestic and international factors, at both the macro and firm level, she draws compelling lessons for countries grappling with similar challenges."
- Helen Shapiro, University of California, Santa Cruz