© 2016
Who's to Blame for Greece?
Austerity in Charge of Saving a Broken Economy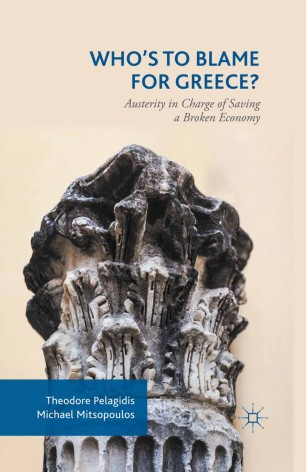 Table of contents
About this book
Introduction
Greece's economy symbolizes in many ways the Eurozone's economic problems and divergent interests as it amasses most of the economic disadvantages characterizing the Eurozone's economy itself. This book presents the economic and political challenges to Greece and the EU member states.
Keywords
Greece
Eurozone
IMF
ECB
Monetary Union
Financial crisis
political economy
economics
The European Union
EU
crisis
European Union (EU)
growth
labor market
macroeconomics
monetary union
money
public finance
trade
Bibliographic information
Reviews
'The new book by Michael Mitsopoulos and Theodore Pelagidis offers insightful analysis of the Greek drama. It makes fascinating reading and well demonstrates that the blame is widely shared.'
André Sapir, University Professor, Université libre de Bruxelles, Belgium, and former Economic Advisor to the President of the European Commission
'Who is to blame for Greece? If I could pick just two experts on the Greek debacle to answer this question it would be Theodore Pelagidis and Michael Mitsopoulos. And thankfully they have done just that in this penetrating analysis of what has happened to Greece over the past five years. It's a timely and incisive work and no one gets off easy a must read.'
Landon Thomas, Jr, Financial Reporter, New York Times, USA
'With their customary mix of political savvy and sound economic analysis, Pelagidis and Mitsopoulos separate truth from myth in the great debate about the causes of the Greek crisis. As usual, no one is spared: Greece's leaders before the fall, its official creditors since 2010 and the chaotic SYRIZA-led coalition all get their fair share of the blame for the still-unfolding disaster.'
Yannis Palaiologos, author of The 13th Labour of Hercules