© 2015
Indonesia's Ascent
Power, Leadership, and the Regional Order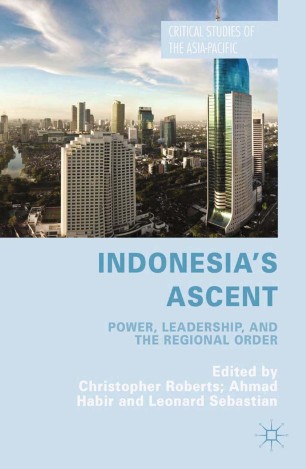 About this book
Introduction
This volume explores the domestic and transnational considerations associated with Indonesia's ascent, referring to its rise in terms of hard and soft power and its likely trajectory in the future. The range of contributors analyse economic resources, religious harmony, security, regional relations, leadership and foreign policy.
Keywords
Power
influence
international relations
politics
Indonesia
regionalism
ASEAN
security
economy
foreign policy
defense
military affairs
maritime security
leadership
Southeast Asia
East Asia
democracy
hegemony
Institution
International institutions
mediation
Policy
Bibliographic information
Reviews
"Indonesia's Ascent: Power, Leadership, and the Regional Order is a sixteen-chapter edited volume that grapples directly with the question of whether Indonesia will be a major power. … Indonesia's Ascent is useful for a range of audiences … . Indonesia-focused academics searching for analyses slightly outside of their field of study will find many chapters enriching, as well as those with a general interest in the country." (Natalie Sambhi, Contemporary Southeast Asia, Vol. 37 (3), December, 2015)
'Australia and Indonesia share a wide range of common interests. Working together to increase prosperity, promote political stability and advance democratic development underpins bilateral relations. This important book assesses the complexities of bilateral diplomacy as well the impact of Indonesia's rise on Australia, the region and the world.' - Greg Moriarty, Australian Ambassador to Indonesia (2010-2014)
'Not many people appreciate the size and weight of Indonesia. Its multi-ethnic society and the huge complex of traditional institutions and modern governance are even less well known. This book magnifies what Indonesia is about and what it means to the neighbouring countries and those attempting to understand Indonesia's presence in the global landscape. In the Association of Southeast Asian Nations (ASEAN), we have described Indonesia as the crucible on which regional cooperation, resilience and stability flourish or flounder. In this context, the collection of essays here is particularly valuable as Indonesia's power mindset is examined in a reader-friendly way with a useful bibliography on the various aspects covered by the writers.' - Ambassador Ong Keng Yong, Dean of the S. Rajaratnam School of International Studies (Singapore) and former Secretary General of the Association of South East Asian Nations
'The swiftness of Indonesia's economic ascent and attainment of accompanying social and political stability has been a source of significant approbation across the globe. Remarkably, however, this sixteen-chapter edited volume represents one of the first in-depth analyses of the country's economic, political and cultural transition and is the first to provide such a comprehensive analysis of the domestic and transnational considerations affecting 'Indonesia's ascent'. Moreover, nearly half of the authors are Indonesian and the volume thereby provides critical insight concerning Indonesian perceptions of Indonesia and its place in Asia and the world. Finally, this text will provide each reader with a virtual encyclopaedia of knowledge ranging from the events that followed Indonesia's declaration of independence to issues such as nation building; Islam; security fault lines; maritime issues; defence and foreign policies; regional relations; and Indonesia in ASEAN, the G20, and the United Nations. Therefore, this book will be indispensable for anyone who wants to deepen their understanding about Indonesia in general as well as how Indonesia transitioned to where it is today, the implications of this internationally, and just how high it might ascend in the future. The editors are to be commended for their ability to complete a book on such a rich mix of issues concerning Indonesia and its ascent!' - Dr Dewi Fortuna Anwar, Deputy Secretary for Political Affairs to the Vice President of the Republic of Indonesia and Research Professor for International Affairs, Indonesian Institute of Sciences (LIPI).