© 2013
European Defence Cooperation in EU Law and IR Theory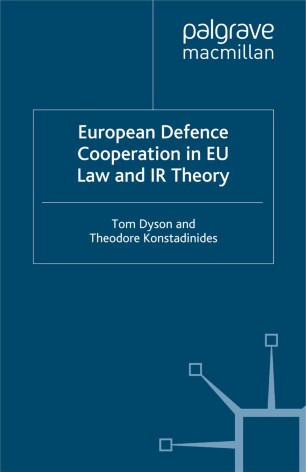 About this book
Introduction
This book offers a novel contribution to the study of post-Cold War European defence. Interdisciplinary in approach, it uses European law to assess the utility of existing theoretical accounts. By exploring the balance of threat theory, it provides new insights into the forces driving and hindering European defence cooperation.
Keywords
European Law
International Relations Theory
Defence
CSDP
Cooperation
Neorealism
Cold War
EU Law
Europe
European law
European Union (EU)
Germany
Governance
government
Institution
law
Lisbon Treaty
NATO
Policy
realism
sovereignty
Bibliographic information
Reviews
"Tom Dyson and Theodore Konstadinides offer a distinctly interdisciplinary approach to the study of European defence cooperation, one that combines legal perspectives based on EU Law with a political and strategic analysis grounded in neorealist theories of international politics. Combining empirical analysis with theoretical explanation, this book makes an important contribution to the academic literature on European security and defence cooperation."
- Adrian Hyde-Price, Professor of International Politics, University of Bath, UK
"In the last few years, the EU's security and defence policy has attracted the attention of legal scholars. These have added to the voluminous literature already produced by international relations experts in the area. And yet, the two communities do not communicate nearly enough. This book remedies this shortcoming and deserves to be read by lawyers and IR scholars alike."
- Panos Koutrakos, Professor of European Union Law, University of Bristol, UK