© 2012
Educational Diversity
The Subject of Difference and Different Subjects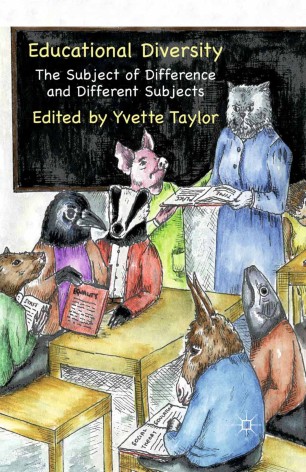 Table of contents
About this book
Introduction
This collection explores the relationship between new equality regimes and continued societal inequalities, exploring change, ambivalence and resistance specifically in relation to compulsory and post-compulsory education, seeking to more fully situate the educational journeys and experiences of staff and students.
Keywords
children
Design
Diversity
education
gender
higher education
identity
inclusion
learning
research
school
Standards
teaching
university
Bibliographic information
Reviews
"'Diversity' superseded equal opportunity only to bring about inertia and a happy clappy multicultural tick box culture in our educational institutions. Taylor's powerful scholarly collection breathes a breath of fresh air to the whole messy and confusing 'diversity' debate, showing the impact of the bureaucratic 'diversity' malaise on the day to day reality of underrepresented and disadvantage groups who live within the struggle and fight back. This book is vital reading for all those who care about social justice and equality in our places of learning and teaching." Heidi Safia Mirza, Professor of Equalities Studies in Education Institute of Education, University of London, UK and author of Respecting Difference: Race, Faith and Culture for Teacher Educators.
"This book offers to critical scholarship some of the most sophisticated contemporary thinking and research on 'diversity' as a discursive trope and embodied reality. Ranging across the globe as source of its chapters authors discuss 'diversity' as it is lived and legislated for in the UK, Ireland, Australia and Taiwan focussing on the spaces of mainstream or 'special' schooling, elite or 'access' higher education institutions and routes to employment (or not). This is a rich wide-ranging edited collection informed by the vivid vocabularies of feminisms, cultural sociology as well as the classic sociological concerns with class. All the contributions though are shaped by a common intellectual and political ambition to perturb the normative regulation of those deemed as 'different'. These authors resist 'diversity' as a perfunctory performance indicator, to show that who is made 'diverse' or who can trade in 'diversity', works as an incipient geometry of power. This collection is therefore to be welcomed as it puts this formation under powerful scrutiny generating important resources for educators committed to asking awkward questions of educational and social inequalities." Valerie Hey, Professor of Education, University of Sussex, UK
"Educational Diversity is a rich interdisciplinary collection showcasing a wide range of theoretical approaches and methodologies ... a very useful read for anyone with an interest in education and social justice because of the way it raises issues and gathers interdisciplinary strands" - Feminist and Women's Studies Association Blog