© 2012
Beyond a Divided Cyprus
A State and Society in Transformation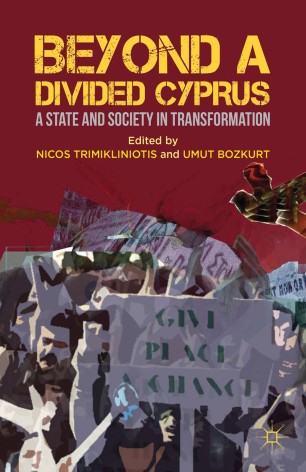 About this book
Introduction
Cyprus is a postcolonial island known for natural gas reserves and ethnic divisions. This volume presents a fresh perspective on the Cyprus problem by examining the societal transformations taking place within the island: socioeconomic development, population transitions and migration, and rapidly changing social and political institutions.
Bibliographic information
Reviews
"This book makes a significant and thought-provoking contribution to existing scholarship on Cyprus and the social and political dynamics at play in divided societies more generally. The editors have brought together a wide range of contributions on history, politics and society in Cyprus, providing new directions and suggesting ways forward. This is a must-read for scholars, politicians, and others who are interested not only in Cyprus but also in a broader understanding of political and ethnic divisions in the modern period."
- Floya Anthias, professor of Sociology and Social Justice (emeritus), Roehampton University
"Beyond a Divided Cyprus not only takes into account topics that are central to both the Turkish and Greek communities, but accomplishes this through a multicultural and multi-party critical analysis of issues that transcends rigid political and cultural boundaries. It provides an objective analysis of the situation with a progressive solution that benefits both sides for a peaceful resolution of the conflict in Cyprus."
- Berch Berberoglu, professor of Sociology, University of Nevada, Reno
"The twelve chapters of this timely collection of essays on one of the most intractable problems in the world constitute twelve brilliant ways of looking at a conundrum. This volume is necessary reading for anyone interested in the genesis of the current predicament of this unfortunate island. Keen enough to diagnose a fate of impossibility, the editors and contributors of this historic volume are also wise enough to shun a prognosis for a terminally chronic condition and its incurable affliction."
Djelal Kadir, The Edwin Erle Sparks Professor of Comparative Literature, Penn State University
"This book make a significant contribution in presenting and analyzing Cyprus and Cypriote society in all its complexity within regional and global contexts. Its perspective is inclusive, as it includes both Greek and Turkish Cyprus in its analysis and present history and society as a dynamic, shifting, and contested terrain."-Nira Yuval-Davis, Director of the Research Centre on Migration, Refugees and Belonging, School of Law and Social Sciences, University of East London