© 2012
Being American on the Edge
Penurbia and the Metropolitan Mind, 1945–2010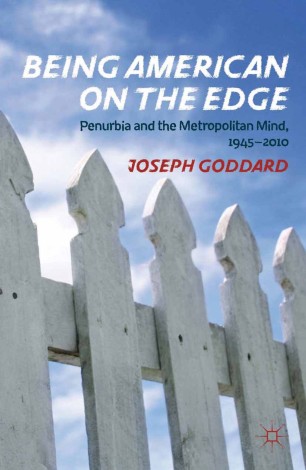 About this book
Introduction
This manuscript focuses on the development of hybrid city-country (penurban) landscapes around large urban areas which mesh stylized countryside with functional links to the cities. These landscapes are central to American mindsets as they combine the dreams, expectations, and experiences of the nation in expressive cultural landscapes. An interpretive-analytical methodology is used in this single-authored, multidisciplinary work which draws on insights from history, American Studies, social sciences, urban studies, and environmental studies, and cultural studies in order to portray lifestyle and settlement phenomena overlooked by single disciplinary fields. Telling the story of how penurban landscapes emerged, the work blends original research with a re-reading of existing work to understand developing lifestyle and settlement patterns. The book aims at readers in history, urban studies, environmental studies, consumerism and American Studies.
Keywords
city
culture
planning
politics
society
Bibliographic information
Reviews
'The geographically-based case studies incorporated into Being American on the Edge represent the very essence of Goddard's work. His attention to popular culture - film, magazines, and newspapers - is also handled effectively as well as engagingly. Indeed, it lends essential context to his work. A significant book." - Michael H. Ebner, professor emeritus of American History, Lake Forest College, and author of Creating Chicago's North Shore, A Suburban History
"Exurbs, edge cities, and now penurbia: we are bombarded with new language to describe new types of settlements. But seldom has a term met a more demanding wordsmith than Joseph Goddard. Drawing great insights from interdisciplinary research, he conveys not only a physical space, but also the lifestyle and culture of two very different American metropolitan regions and their evolution since World War II. Penurbia, he argues, is a national phenomenon. To understand this new type of settlement is to understand the dreams and expectations of Americans in the twenty-first century." - David Goldfield, Robert Lee Bailey Professor of History at University of North Carolina, Charlotte, and editor of the Journal of Urban History
Penurbia is an intriguing hybrid landscape with a low density population of urban émigrés that has emerged on the edge of American cities since 1945, as farmland has been converted into a new order of countryside. Characterized by neo-rustic homes and weekend retreats, wineries, stables and hobby farms, penurbia is the newest frontier of American settlement and land use. Goddard's book digs deep and perceptively into the mindset behind this landscape that looks like the country but thinks like the city. Goddard does for penurbia what Adam Rome's The Bulldozer in the Countryside (2001) did for suburbia. A valuable addition to American cultural history, urban history and environmental history.
Goddard's absorbing study is the first book length treatment of that newest category of American landscape which has been dubbed penurbia a new frontier of settlement and land use that is just beginning to attract the scholarly attention it deserves. Through telling case studies, Goddard probes deep into the hybrid landscape known as penurbia that has emerged on the edge of American cities since 1945 to unsettle received notions of the urban, rural and suburban and reveal American culture's profound associations with the pastoral, the frontier and the healing power of nature. - Peter Coates, professor of American and Environmental History, University of Bristol