© 2012
International Development in Practice
Education Assistance in Egypt, Pakistan, and Afghanistan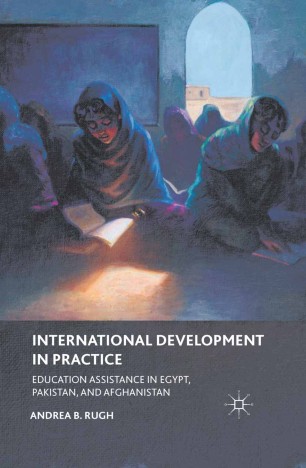 About this book
Introduction
Written for practitioners and practitioners-in-training of education development, this book reviews education issues in developing countries and provides in-depth case studies from Egypt, Pakistan, and Afghanistan.
Keywords
development
education
UNICEF
Bibliographic information
Reviews
"This book does exactly what it promises to do: bring to life the practice of development. Scrupulously neutral, in writing devoid of ideological a priori assertions and theoretical hang-ups, Andrea Rugh carefully analyzes three major aid programs in which she herself was involved in the last three decades and lets the facts speak for themselves. In so doing, she manages to convey both development aid s promises and its shortcomings, its creativity and blinders, its failures and successes."
- Peter Uvin, Henry J. Leir Professor of International Humanitarian Studies, The Fletcher School of Law and Diplomacy, Tufts University