© 2012
Teaching with Reverence
Reviving an Ancient Virtue for Today's Schools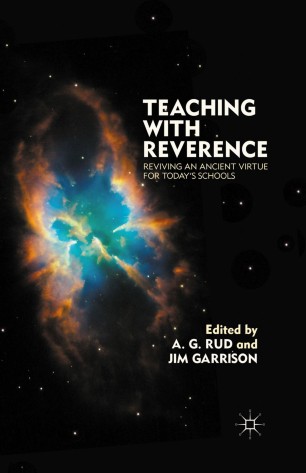 About this book
Introduction
Reverence is a forgotten virtue in teaching and learning. When taken in a broader spiritual sense, it is often associated with a mute and prim solemnity. The essays gathered here examine reverence as a way to understand some of the spiritual dimensions of classroom teaching.
Keywords
education
learning
love
teacher education
time
Bibliographic information
Reviews
"Rud and Garrison are prolific philosophers of education. They believe reverence is the heart of the educational endeavor. . . Teachers might be intrigued by the promise of reverence but still wonder how to create it in their students. Helpfully, several of the essays are somewhat autobiographical, showing how some teachers have made the effort. Recommended."
- CHOICE
"Reverence is central to education, but sadly neglected. I hope teachers at all levels will pay attention to this important topic." - Paul Woodruff, Darrell K. Royal Professor in Ethics and American Society and Inaugural Dean of Undergraduate Studies, The University of Texas at Austin; author of Reverence: Renewing a Forgotten Virtue
"In these times when education is being turned into a commodity to prepare workers for the global economy and emotionally neutral and technical forms of teaching and narrow forms of accountability such as 'value added' ratings are being promoted, this book on reverence in teaching is a breath of fresh air. The essays in this book remind us what education and teaching are fundamentally about and will help sustain us through these difficult times and point the way to a more ethically defensible path for schooling." - Ken Zeichner, Boeing Professor of Teacher Education, University of Washington
"Collected here are essays that help us remember, articulate, and pursue the fundamental aims of education. There are no lectures to readers. Instead, we find multiple well-crafted, inspiring invitations to listen, with reverence, to the aspirations that call us to teach." - Sophie Haroutunian-Gordon, Professor and Director, Master of Science in Education Program, Northwestern University