© 2009
Peace Education in Conflict and Post-Conflict Societies
Comparative Perspectives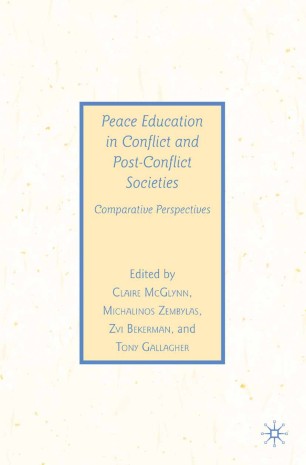 Table of contents
About this book
Introduction
This collection of peace education efforts in conflict and post-conflict societies brings together an international group of scholars to offer the very latest theoretical and pedagogical developments. Rather than focus on ad hoc peace education efforts this book investigates the need for long term, systemic approaches and innovative pedagogies.
Keywords
conflict
curriculum
education
Gymnasium
learning
research
university
Bibliographic information
Reviews
"There is no doubt that peace education is one of the most important challenges of the civilized world. This edited volume provides an important enlightenment of how to plan, construct and implement peace education. It tackles the mission from theoretical, pedagogical, empirical and contextual perspectives by offering real examples from different projects in such troubled spots like the Middle East, Cyprus, Northern Ireland, Burundi or Macedonia. The book is a must for practitioners and researchers who try to develop peace education in societies torn by vicious conflicts." - Daniel Bar-Tal, Branco Weiss Professor of Research in Child Development and Education School of Education, Tel Aviv University
"At the 2007 World Congress of Comparative Education, attendees adopted a "Sarajevo Declaration on Education," stating their commitment to "promote and foster among the educators and people of our regions the goal of living peacefully together through education and intercultural dialogue." This edited volume provides critical insights concerning the challenges and opportunities for living up to the ambitious and important goal of this Declaration." - Mark Ginsburg, Educational Quality Specialist, Academy for Educational Development (USA); Co-editor of Comparative Education Review
"In a world where serious conflicts pose barriers to sustainable peace in many societies, the vision and work of education for a culture of peace is indispensable and urgent. This timely collection of case studies and critical analyses provides valuable and creative insights and lessons drawn from peace education initiatives in various social, political and intercultural contexts. It shares the commitment, hopes and inspiration of peace educators across diverse countries and regions." - Toh Swee-Hin, Peace Education Commission, IPRA & Laureate, UNESCO Prize for Peace Education (2000)
"This work is a very useful and important contribution to peace education. Scholars from Israel, Cyprus, and Belfast deal with the needs of those who teach in these fields both in situations of conflict as well as post conflict contexts. Educators need context based insights situated in research and this book does this very eloquently." - Jagdish Gundara, Head of the International Centre for Intercultural Studies, Professor of Education at the University of London Institute of Education.
Peace Education in Conflict and Post-Conflict Societies: Comparative Perspectives, has won the first annual CIES Jackie Kirk Outstanding Book Award.