© 2006
America and Enlightenment Constitutionalism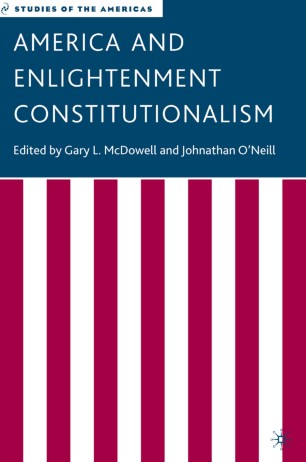 Table of contents
About this book
Introduction
Please note this is a 'Palgrave to Order' title (PTO). Stock of this book requires shipment from an overseas supplier. It will be delivered to you within 12 weeks. This book shows in detail the Enlightenment origin of the US Constitution. It provides vivid analysis of how the Enlightenment's basic ideas were reformulated in the context of America.
Keywords
Age of Enlightenment
America
Bible
constitution
enlightenment
experience
freedom
James Madison
John Locke
liberty
Montesquieu
philosophy
reform
William James
Bibliographic information
Reviews
In a provincial city near a rude frontier, the American founders designed a form of republican government that enabled their distant outpost to become the mightiest polity since ancient Rome. Not mere fortune but a science of politics made this happen; not prayer alone, but enlightenment. The able authors of this diverse set of essays explain and exemplify the learning behind American constitutionalism, not as historical curiosity, but as living knowledge. In the spirit of enlightenment, their perspective on the Founding is reflective rather than celebratory - respectful of the Founders' achievement, but not afraid to criticize what enlightenment itself has become. There is much to ponder here, and much to admire. - James R. Stoner, Jr., Professor of Political Science, Louisiana State University
O'Neill and McDowell have brought together elegant essays by leading authorities that convincingly reveal the profound impact of the Enlightenment on the drafting of the American Constitution. These essays demonstrate that the Framers' emphasis on natural rights and equality, their reliance on constitutional structure to secure liberty, and their faith that good government could be established on 'reflection and choice' all stemmed from the spirit of free inquiry and innovation that the Enlightenment imbued in them. - Ralph A. Rossum, Salvatori Professor of American Constitutionalism, Claremont McKenna College
This collection of essays by leading scholars of American political thought provides a penetrating and timely reassessment of the enduring philosophical foundations of America's unique contribution to modern constitutionalism.
- Herman Belz, Professor of History, University of Maryland
Original and invigorating. - David Peddle, Memorial University, Newfoundland (Canada)