© 1997
The God/Man/World Triangle
A Dialogue between Science and Religion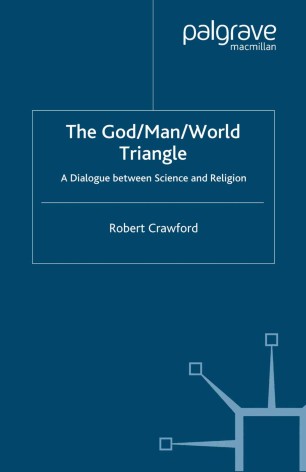 About this book
Introduction
Why is there a world? Does it reflect the presence of God in any way? Did the world spontaneously come into existence or is there a creator? How will it end? Does God Exist? Do religions give a coherent view of His existence and nature? Can we enter into relation with Him? Robert Crawford tries to answer these and other questions by arguing that religion and science complement one another and, while they use different sources and methods, insights can be gleaned from both concerning our nature, the world, and God. Major attention is given to Christianity because modern science arose in that context but the discussion includes the teachings of five other religions in the hope that we can also learn from them.
Keywords
Christianity
god
religion
science
Bibliographic information
Book Title

The God/Man/World Triangle

Book Subtitle

A Dialogue between Science and Religion

Authors

DOI

https://doi.org/10.1057/9780230509221

Copyright Information

Palgrave Macmillan, a division of Macmillan Publishers Limited

1997

Publisher Name

Palgrave Macmillan, London

Hardcover ISBN

978-0-333-68935-6

Softcover ISBN

978-0-333-80400-1

eBook ISBN

978-0-230-50922-1

Edition Number

1

Number of Pages

XII, 233

Number of Illustrations

0 b/w illustrations, 0 illustrations in colour
Reviews
'The God/Man/World Triangle argues that science and religion complement one another in giving us a picture of what we are, how the world is, and what God is like.' - Reform
'Robert Crawford has written a clear and unusually wide-ranging survey of issues relating to the divine, the human and the cosmic, topics which should engage the interest of everyone concerned with how science and religion relate to each other today.' - Rev. Canon John Polkinghorne, FRS, former President, Queen's College, Cambridge
'Various issues in 'religion and science' are certainly some of the most hotly debated topics today. Robert Crawford has now entered this exciting debate by writing an accessible and extremely readable text that will enhance the ongoing dialogue about these complex but fascinating issues. The God/ Man/ World Triangle covers a remarkably broad field and manages to include in its scope issues as diverse as religious faith, the biological and physical sciences, and especially focuses on the special challenge to religious faith by contemporary cosmology and evolutionary biology.' - J.Wentzel van Huyssteen, James I. McCord Professor of Theology and Science, Princeton Theological Seminary
'Crawford has the happy knack of presenting an erudite argument concerning fundamental life issues as an exciting debate in an accessible and extremely readable text ... he argues that religion cannot be based on science but its views should be consonant with the scientific understanding of the world and man, otherwise it fails to communicate with its society. Conversely, if science seeks to proceed without any acknowledgement of the values and purposes which religion imparts to life, its method may become inhumane and its goal meaningless..' - Rev. William Dowling, Minister of the URC London, in Reform Magazine
This book was nominated for the prize for outstanding books in Theology and Natural Sciences (the John Templeton Award) by the Centre for Theology and Natural Sciences at the University of California, Berkeley, USA.
'He is both knowledgeable and fair in his scientific views... the book brings together a wealth of materials that will be useful to any serious reader interested in the questions addressed' - Choice
'Robert Crawford has written a clear and unusually wide-ranging survey of issues relating to the divine, the human and the cosmic, topics which should engage the interest of everyone concerned with how science and religion relate to each other today.' - John Polkinghorne