© 2010
'Illegal' Traveller
An Auto-Ethnography of Borders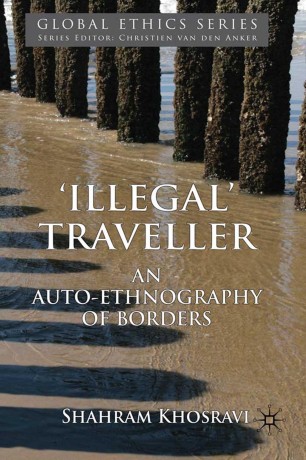 About this book
Introduction
Based on fieldwork among undocumented immigrants and asylum seekers Illegal Traveller offers a narrative of the polysemic nature of borders, border politics, and rituals and performances of border-crossing. Interjecting personal experiences into ethnographic writing it is 'a form of self-narrative that places the self within a social context'.
Keywords
Asylum
ethnography
politics
Bibliographic information
Reviews
"Shahram Khosravi's new book, 'Illegal' Traveller is really powerful and rich. One of the gems for me is the way the author clarifies the networks of migration from several perspectives. There are so many facets: the loneliness of making one's way alone and defenseless except for trying to keep one's wits; the political economies of the networks of smuggling at the lower levels; the human rights indignities of being stateless and vulnerable to rape, violence, extortion, and disappointment; and the ways in which small time smugglers also are liable to bankruptcy and inability always to calculate the margins. Also of course, the descriptions of the author's family as mid level khans with open houses both in Isfahan and Bakhtiari country, and the alienation of being Bakhtiari in Isfahan. Also the descriptions of Defense Colony in Delhi (the American Institute of Indian Studies has a house there) and the Topkapi area of Istanbul, places I have inhabited as well, albeit under very different circumstances. The minority experiences with the resonances that are invoked from Kafka, Benjamin, and the comparative references from the southern border of the U.S. (migrants from Mexico and Central America) as well as the borders around Fortress Europe make the book a cartography of the contemporary world, one that is only gradually being taken seriously by analysts as something quite other than an aberration."
- Michael M. J. Fischer, Andrew W. Mellon Professor of Humanities, Professor of Anthropology and Science and Technology Studies
MIT, USA
"The little-seen and personal perspective that is presented in Illegal traveller not only offers new empirical insights on human smuggling as a process, but also addresses the emotional aspects of the process of 'illegal' migration which hardly ever emerge in academic writing...Illegal traveller with its particular perspective on smugglers, which goes beyond state-defined categories of who and what is defined to be criminal, is a welcome contribution to the debate about 'illegal' migration from a side of the story that is too often ignored, but in need of telling."
- Ilse van Liempt, Postdoctoral Researcher in the Department of Urban Geography at the University of Utrecht, the Netherlands.
'A moving, original and profound meditation on borders and illegality [...] Combining analysis with personal anecdotes and biographical vignettes [...] Khosravi combines intellectual distance with irony, wit and passion and never loses his ability to relate the particular to the general.' - Matt Carr, Race & Class
'Illegal Traveller is a very welcome addition to the literature on migration and it can be recommended to all whose interests go beyond traditional approaches.' - Journal of the Finnish Anthropological Society