Social Movements and the State in India
Deepening Democracy?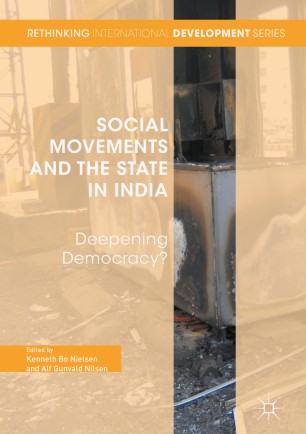 About this book
Introduction
Questions of the extent to which social movements are capable of deepening democracy in India lie at the heart of this book. In particular, the authors ask how such movements can enhance the political capacities of subaltern groups and thereby enable them to contest and challenge marginality, stigma, and exploitation. The work addresses these questions through detailed empirical analyses of contemporary fields of protest in Indian society – ranging from gender and caste to class and rights-based legislation. Drawing on the original research of a variety of emerging and established international scholars, the volume contributes to an engaged dialogue on the prospects for democratizing Indian democracy in a context where neoliberal reforms fuel a contradictory process of uneven development.
Keywords
State formation
Slow-motion counterrevolyution
Neoliberalism
Caste
Dalit Feminists
UN
Global Justice
Activism
Collective Action
'Right to Work'
Right to Information Act
Labour Movement Mobilization
Class Alliances
Maoist Mobilization
Agrarian Change
Bibliographic information