The Political Economy of Independent Ukraine
Slow Starts, False Starts, and a Last Chance?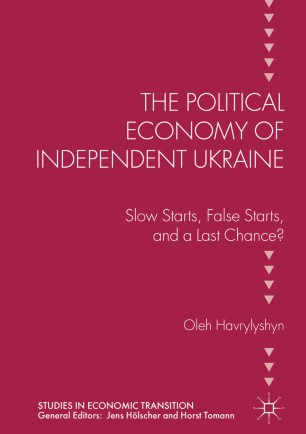 Table of contents
About this book
Introduction
Marking the 25th anniversary of Ukraine as a sovereign nation, this book traces its economic transformation since 1991. Post-communist transition has been a highlight of recent history, and Ukraine stands out as one of its most interesting and puzzling cases. Havrylyshyn offers the first comprehensive treatise on the entire period, providing a thorough description of the slow evolution of economic reforms, exploring how and why performance in this regard fell far behind the leaders in transition. Testing several conventional hypotheses, the author argues that while Russian imperialism may form part of the explanation, the self-serving interests of domestic elites and new oligarchs may be even more important. Radically revising the traditional argument that reforms were delayed to allow nation building, this book contends that it was due more to the interests of the non-lustrated elite, who needed time to become the new capitalists.
Keywords
economy
political economy
political science
politics
Kravchuk
Kuchma
Yushxhenko
Yanukovich
Poroshenko
Liberalization
EU membership
Capitalism
EuroMaidan
Bibliographic information