Foreign Policy Under Austerity
Greece's Return to Normality?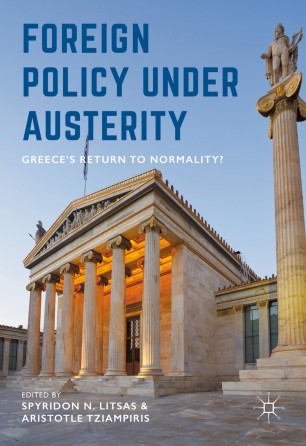 About this book
Introduction
This book examines the continuities and substantial transformations in Greek foreign policy before the beginning and during the unfolding of the economic crisis. Although up until now, significant attention has been cast on the rise of the neo-Nazi movement, the abuses and dysfunctions of the Greek economy, and the immense social ramifications of unemployment, less is understood about the impact on Greek diplomacy and foreign policy. This collective work not only attempts to delineate future trends in Greek foreign policy, but also seeks to explore the current events that resemble more a Greek tragedy than the systemic challenges that every nation has to face. This edited volume, quite original in its field of analysis, will be of interest to International Relations academics, foreign policy professionals, Politics and Economic students and the general public who follow developments pertaining to Greece and the European Union, as well theoretical debates surrounding International Relations.
Keywords
SYRIZA
foreign policy
austerity
crisis
economy
Grexit
Europe
terrorism
maritime zones
uprising
middle east
balkans
international relations
politics
Bibliographic information