Security, Race, Biopower
Essays on Technology and Corporeality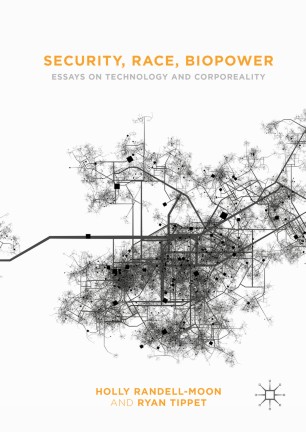 About this book
Introduction
"This path-breaking anthology brings theories of racialization, the body, and biopower, into conversation with critical science and technology studies perspectives and sets this conversation in the context of the shifting, emergent geographies of globalization. These three threads of bodies, territories, and technologies weave together a diverse, wide-ranging, and highly original set of essays. The contributors offer provocative analyses of contemporary phenomena ranging from access to HIV drugs, changing succession rules of the British monarchy, drones, and Australian aboriginal resistance struggles."
-Victoria Bernal, University of California, Irvine
This book explores how technologies of media, medicine, law and governance enable and constrain the mobility of bodies within geographies of space and race. Each chapter describes and critiques the ways in which contemporary technologies produce citizens according to their statistical risk or value in an atmosphere of generalised security, both in relation to categories of race, and within the new possibilities for locating and managing bodies in space. The topics covered include: drone warfare, the global distribution of HIV-prevention drugs, racial profiling in airports, Indigenous sovereignty, consumer lifestyle apps and their ecological and labour costs, and anti-aging therapies.
Security, Race, Biopower
makes innovative contributions to multiple disciplines and identifies emerging social and political concerns with security, race and risk that invite further scholarly attention. It will be of great interest to scholars and students in disciplinary fields including Media and Communication, Geography, Science and Technology Studies, Political Science and Sociology.
Keywords
geography
technology
globalisation
STS
risk
surveillance
drones
social media
cultural studies
sovereignty
smartphones
labour
New Zealand
HIV
science and society
Bibliographic information