Employment and Re-Industrialisation in Post Soeharto Indonesia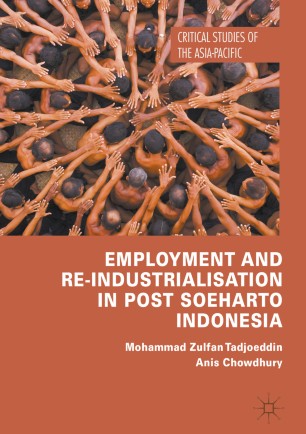 About this book
Introduction
"This book is very timely. I endorse the book's conclusion that Indonesia has to move on to a productivity driven growth path, and the key to successful job-rich reindustrialization for shared prosperity is integrated domestic markets based on stronger backward and forward linkages where regional minimum wages can be an important industry policy tool.'
–Armida Alisjahbana, Padjajaran University, Indonesia
"Tadjoeddin and Chowdhury have written an important new study of employment and industrialization in Indonesia. There is much food for thought in their clearly written and provocative analysis. The authors are to be congratulated for this timely and stimulating study." –Hal Hill, Australian National University, Australia
This book studies the challenges for Indonesia, once a miracle economy, as it faces premature deindustrialization, rising inequality and domestic and external factors impacting its export-oriented industrialization. Since the fall of Soeharto, Indonesia has undergone a far-reaching systemic transition from centralised and autocratic governance to a highly decentralised and democratic system. Complicated by regional variations, the country is now being called upon to respect labour rights and, amidst slow global economic recovery, is facing increased competition from other low-labour-cost countries, especially within the ASEAN Economic Community. Tadjoeddin and Chowdhury posit that Indonesia cannot recreate its past miracle based on cheap labour and suppression of labour rights. It will need to move quickly to high value-added activities driven by productivity growth and to develop its domestic market.
Mohammad Zulfan Tadjoeddin is Senior Lecturer in Development Studies, Western Sydney University, Australia. He held visiting research appointments at the Queen Elizabeth House, Oxford University, England and at the International Institute of Social Studies, Erasmus University, the Netherlands.
Anis Chowdhury is Adjunct Professor, Western Sydney University and the University of New South Wales, Australia. He held several senior United Nations positions, including Director of the Macroeconomic Policy and Development Division, and Director of the Statistics Division of the UN Economic and Social Commission for Asia and the Pacific.
Keywords
employment
institutions
labour
productivity
Ethnic conflict
Indonesia
ASEAN economies
De-industrialisation
De-centralised governance
Political Economy
Conflict Studies
labour market
Bibliographic information