Cytochrome P450
Structure, Mechanism, and Biochemistry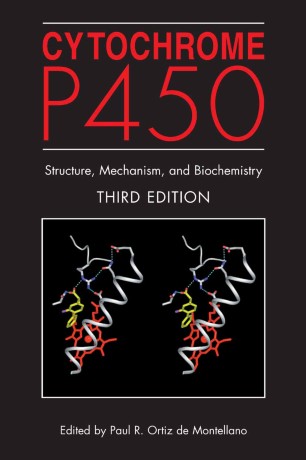 About this book
Introduction
In this third edition of Cytochrome P450: Structure, Mechanism, and Biochemistry, Dr. Paul Ortiz de Montellano has brought together a group of new authors as well as authors from previous editions to produce a timely volume that will be of considerable interest to a broad array of P450 researchers.
The explosion of discovery of CYP (cytochrome P450) genes through genome analysis—more than 3500 to date—provides the more than 10,000 scientists around the world who study these monooxygenases a rich source of interesting and important research problems. Many have remained central elements over the 18 years that span the three editions of this book, including mechanisms of catalysis, oxygen activation and inhibition, gene regulation, and P450 structure. Each new edition updates our knowledge of such central issues in the study of P450s, emphasizing the timeliness of this newest volume.
In this newest edition, we find that the newest discussion of P450 structure includes information of bacterial (soluble) P450s interwoven with that of eukaryotic (membrane bound) of this superfamily, highlighting the newest developments in this area. The complete battery of human P450s is now known and summarized in the new edition. In addition, general overviews of plant P450s and those from microbes contained within this newest edition provide a broader view of P450 diversity than seen in earlier editions. Each of these three editions should be on bookshelves of laboratories studying P450s. The third edition of Cytochrome P450: Structure, Mechanism, and Biochemistry provides an opportunity to judge progress in many key areas of P450 research while at the same time learn of new directions in the field. It is an excellent and most useful volume.
Dr. Michael R. Waterman, Ph.D., Department of Biochemistry, Vanderbilt University School of Medicine, Nashville, TN
The third edition of Cytochrome P450: Structure, Mechanism, and Biochemistry provides an exceptionally fine summary of our present knowledge of the remarkable hemoprotein often called "nature's most versatile biological catalyst." Edited by Paul Ortiz de Montellano, with chapters by many of the world's experts in this rapidly developing field, this edition includes major advances in the past decade such as the crystal structure of membrane-bound forms of the enzyme and evidence for multiple species of activated oxygen, based in part on the use of radical clocks and computational approaches. The sequences of several thousand P450s are now known, and recent progress in understanding the properties and functions of those in the microbial and plant worlds, as well as the better known mammalian isozymes, is now included.
The versatility of cytochrome P450 includes the ability to metabolize innumerable substrates of both physiological and xenobiotic importance, and to be markedly altered in activity by a wide variety of inducers and inhibitors. Accordingly, this new edition will be invaluable to scientists in fields as diverse as biochemistry, chemistry, biophysics, molecular biology, pharmacology, and toxicology.
M. J. Coon, Victor C. Vaughan Distinguished University Professor of Biological Chemistry, Emeritus, The University of Michigan Medical School, Ann Arbor, MI
Keywords
Oxidation
biochemistry
cytochrome P450
enzymes
metabolism
Bibliographic information
DOI

https://doi.org/10.1007/b139087

Copyright Information

Kluwer Academic/Plenum Publishers, New York 2005

Publisher Name

Springer, Boston, MA

eBook Packages

Medicine

Print ISBN

978-0-306-48324-0

Online ISBN

978-0-387-27447-8