Acceptance and Mindfulness-Based Approaches to Anxiety
Conceptualization and Treatment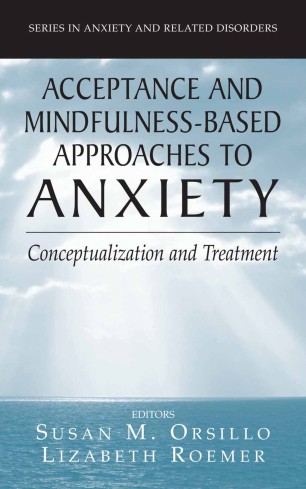 Table of contents
About this book
Introduction
Acceptance- and Mindfulness-Based Approaches to Anxiety:
Conceptualization and Treatment
Edited by Susan M. Orsillo, Suffolk University, Boston
Lizabeth Roemer, University of Massachusetts, Boston
For many years, cognitive-behavioral techniques have been at the forefront of treatment for anxiety disorders. More recently, strategies rooted in Eastern concepts of acceptance and mindfulness have demonstrated some promise in treating anxiety, especially in tandem with CBT. Now, with Acceptance and Mindfulness-Based Approaches to Anxiety, thirty expert clinicians and researchers present a comprehensive guide to integrating these powerful complementary approaches—where they match, when they differ, and why they work so well together.
Chapter authors clearly place mindfulness and acceptance into the clinical lexicon, establishing links with established traditions, including emotion theory and experiential therapy. In addition, separate chapters discuss specific anxiety disorders, the current state of treatment for each, and practical ways of integrating acceptance and mindfulness approaches into therapy.
Among the book's highlights:
- A detailed conceptual framework for combining acceptance-based and cognitive-behavioral approaches
- Clinically valid definitions of acceptance and mindfulness, explaining their compatibility with more goal-driven and problem-solving therapies
- Discussion on how acceptance and mindfulness can be accurately assessed
- Demonstrations of three specific methods—Acceptance and Commitment Therapy, Mindfulness-Based Stress Reduction, and Dialectical Behavioral Therapy skills training—as used in treating clients with anxiety disorders.
- Treatment models for generalized anxiety disorders, obsessive-compulsive disorder, PTSD, social anxiety, and panic disorder
- A specific chapter on applications of acceptance-based therapies for childhood anxiety disorders
- Future directions for bettering our understanding of how these therapies work
As the growing number of cases shows, anxiety remains a major clinical disorder, and practitioners need ready access to ideas and interventions. With this book, editors Orsillo and Roemer have created a forum inspiring future innovations and current best practice.
Keywords
anxiety
assessment
emotion
etiology
mindfulness
psychiatry
psychology
Bibliographic information