Breeding Insect Resistant Crops for Sustainable Agriculture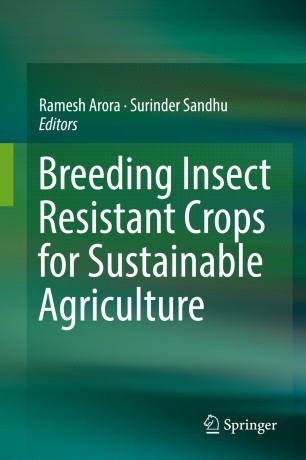 Table of contents
About this book
Introduction
This book reviews and synthesizes the recent advances in exploiting host plant resistance to insects, highlighting the role of molecular techniques in breeding insect resistant crops. It also provides an overview of the fascinating field of insect-plant relationships, which is fundamental to the study of host-plant resistance to insects. Further, it discusses the conventional and molecular techniques utilized/useful in breeding for resistance to insect-pests including back-cross breeding, modified population improvement methods for insect resistance, marker-assisted backcrossing to expedite the breeding process, identification and validation of new insect-resistance genes and their potential for utilization, genomics, metabolomics, transgenesis and RNAi. Lastly, it analyzes the successes, limitations and prospects for the development of insect-resistant cultivars of rice, maize, sorghum and millet, cotton, rapeseed, legumes and fruit crops, and highlights strategies for management of insect biotypes that limit the success and durability of insect-resistant cultivators in the field.
Arthropod pests act as major constraints in the agro-ecosystem. It has been estimated that arthropod pests may be destroying around one-fifth of the global agricultural production/potential production every year. Further, the losses are considerably higher in the developing tropics of Asia and Africa, which are already battling severe food shortage. Integrated pest management (IPM) has emerged as the dominant paradigm for minimizing damage by the insects and non-insect pests over the last 50 years. Pest resistant cultivars represent one of the most environmentally benign, economically viable and ecologically sustainable options for utilization in IPM programs. Hundreds of insect-resistant cultivars of rice, wheat, maize, sorghum, cotton, sugarcane and other crops have been developed worldwide and are extensively grown for increasing and/or stabilizing crop productivity. The annual economic value of arthropod resistance genes developed in global agriculture has been estimated to be greater than US$ 2 billion
Despite the impressive achievements and even greater potential in minimizing pest- related losses, only a handful of books have been published on the topic of host-plant resistance to insects. This book fills this wide gap in the literature on breeding insect- resistant crops. It is aimed at plant breeders, entomologists, plant biotechnologists and IPM experts, as well as those working on sustainable agriculture and food security.
Keywords
GM Crops
Host Plant Resistance
Insect Pest Management
Insect Resistant Crops
Plant Resistance to Insects
Bibliographic information
DOI

https://doi.org/10.1007/978-981-10-6056-4

Copyright Information

Springer Nature Singapore Pte Ltd. 2017

Publisher Name

Springer, Singapore

eBook Packages

Biomedical and Life Sciences

Print ISBN

978-981-10-6055-7

Online ISBN

978-981-10-6056-4