Schopenhauer on Self, World and Morality
Vedantic and Non-Vedantic Perspectives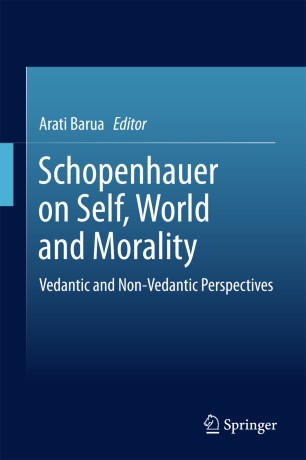 Table of contents
About this book
Introduction
This volume is a unique collection of philosophical essays on various aspects of Schopenhauer's understanding of the nature and character of the world through the classical philosophies of the Vedanta and Buddhism and classical and modern thinkers like Bhartṛhari, Tagore, and Wittgenstein. It includes reflective insights about Schopenhauer and the metaphysics of the world, the self, and morality from scholars who have pioneered the philosophical study of the relation between Schopenhauer and Indian schools of thoughts and intellectual history. This insightful volume is a good academic resource for further research in comparative philosophy of Schopenhauer and the Indian tradition.
Praise for the Volume
Schopenhauer's metaphysics of the World Will stands out in the history of Western Philosophy as having the deepest affinity to Indian philosophical tradition. [The] contributions of this … volume … shed new light on this affinity and identify its roots in a shared morality of solidarity and compassion.
Prof. Dr. Dr. h. c. Dieter Birnbacher, Institut für Philosophie
Heinrich-Heine-Universität Düsseldorf
This rich and varied volume places Schopenhauer's thinking against the Asian and especially Indian background which he himself identified as the source of inspiration for much of his philosophy of the world and the self as will and representation.
Prof. Dr. Günter Zöller, Professor of Philosophy, University of Munich
Keywords
Schopenhauer and Tagore
Schopenhauer and Upanishadic views
Schopenhauer and Buddhism
Wittgenstein and Schopenhauer
Oupnek'hat Miri
pessimism to optimism in Schopenhauer's philosophy
meaning of life
Aurobindo and Schopenhauer
Schopenhauer and Indian philosophy
Schopenhauer and the Advaita Vendanta
monism of the Will
world as representation of the Will
Bhartrhari's metaphysics
German Idealism
aesthetics
Bibliographic information
DOI

https://doi.org/10.1007/978-981-10-5954-4

Copyright Information

Springer Nature Singapore Pte Ltd. 2017

Publisher Name

Springer, Singapore

eBook Packages

Religion and Philosophy

Print ISBN

978-981-10-5953-7

Online ISBN

978-981-10-5954-4