Integrated Pest Management
Experiences with Implementation, Global Overview, Vol.4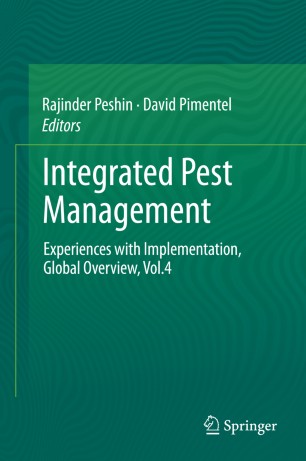 Table of contents
About this book
Introduction
The book, the fourth in the series on integrated pest management (IPM), deals with the experiences of the implementation and impact of IPM in Africa, Asia (China, India and Indonesia), Australia, North America (Canada and the United States), and Europe (Denmark, Germany, Italy, the Netherlands and Sweden). Despite five decades since the concept of integrated control and threshold theory was developed, and four decades since IPM programs have been implemented throughout the world, the widespread use of complex IPM practices has not been adopted. In addition there has been a problem of the diffusion of IPM from trained farmers to others. In developing countries the farmer field school model of extension alone cannot reach the millions of small-scale farmers. Indonesia which is identified as a success story in implementing IPM and reducing pesticide use is facing problems of scaling up. In developed countries pesticide use is high and the number of famers less than in developing countries. Notable success has been achieved in reducing pesticide use in Sweden, Denmark, and the Netherlands by using low dosage pesticides and other techniques. The scientific authorities in IPM research and extension throughout the world have contributed to this book. The chapters assess the benefits and risks of various IPM technologies and transgenic crops. The book will serve professionals, investigators, academia, governments, industry and students.
Rajinder Peshin is an associate professor at Sher-e-Kashmir University of Agricultural Sciences and Technology of Jammu, India. His Ph.D. is from Punjab Agricultural University, Ludhiana, India, and his research expertise is diffusion and evaluation issues associated with sustainable agriculture research and development programs. Peshin has developed an empirical model for predicting the adoptability of agricultural technologies when put to trial at farmers' fields, and an evaluation methodology for integrated pest management programs. He has published more than 50 scientific papers and chapters of books, and has authored three books. He has also edited two books on integrated pest management, published by Springer in 2009.
David Pimentel is a professor of ecology and agricultural sciences at Cornell University, Ithaca, New York, USA. His Ph.D. is from Cornell University. His research spans the fields of energy, ecological and economic aspects of pest control, biological control, biotechnology, sustainable agriculture, land and water conservation, and environmental policy. Pimentel has published over 700 scientific papers and 40 books and has served on many national and government committees including the National Academy of Sciences; President's Science Advisory Council; U.S Department of Agriculture; U.S. Department of Energy; U.S. Department of Health, Education and Welfare; Office of Technology Assessment of the U.S. Congress; and the U.S. State Department.
Keywords
IPM extension
crop losses
pesticides
transgenic crops
Bibliographic information
DOI

https://doi.org/10.1007/978-94-007-7802-3

Copyright Information

Springer Science+Business Media Dordrecht 2014

Publisher Name

Springer, Dordrecht

eBook Packages

Biomedical and Life Sciences

Print ISBN

978-94-007-7801-6

Online ISBN

978-94-007-7802-3