© 2013
Precision in Crop Farming
Site Specific Concepts and Sensing Methods: Applications and Results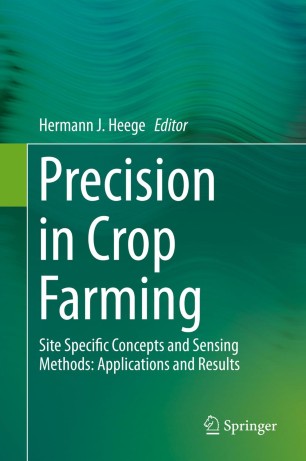 About this book
Introduction
High yields and environmental control in crop farming call for precise adaptations to local growing conditions. Treating large fields in a uniform way by high capacity machinery cannot be regarded as a sustainable method for many situations. Because differences existing within single fields must be considered. The transition from former field work carried out manually or by small implements to present day high capacity machinery caused that the farmers lost the immediate and close contact with soils and crops.
However, modern sensing and controlling technology can make up for this deficit. High tech methods that include proximal sensing and signals from satellites can provide for controls that allow adjusting farming operations to small fractions of one ha and sometimes even down to some m2, hence in a site-specific mode. This applies to operations for soil cultivation, sowing, fertilizing and plant protection.
This book deals with concepts, applications and results, and has an interdisciplinary approach that pervades all chapters.
Keywords
Environmental Control
Precision Farming
Site-specific Control
Utilizing the Yield Potential
Variations within fields
Bibliographic information
Reviews
From the reviews:
"This well-designed, well-written book covers appropriate topics related to production crop farming anywhere in the world. … This book can be used in a beginning and/or intermediate precision farming course. It can also serve as a reference in a more comprehensive course or series of courses on precision crop farming. The material presented will enhance students' knowledge of specific production practices. Summing Up: Highly recommended. Upper-division undergraduates, graduate students, researchers/faculty, and professionals/practitioners." (M. K. Swan, Choice, Vol. 51 (8), April, 2014)