Life on Earth and other Planetary Bodies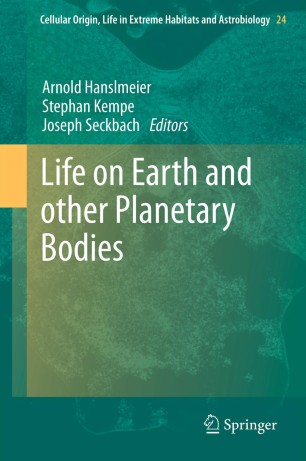 About this book
Introduction
This volume covers aspects of life on Earth with all its diversity and the possibilities of extraterrestrial life. It presents contributions by experts from 20 countries who discuss astrobiology emphasizing life "as we know it" to extraterrestrial places. In the chapters on life in the Cosmos, the authors emphasized in particular certain planets and satellites within the Solar System.
On Earth, life also exists at the edge with harsh limitations (such as extremophiles growing in severe environments). Some chapters address the extremophiles in niches of microbial life in terrestrial halo-environments, the local life without water, and the dormancy of polar cyanobacteria, while others focus on microorganisms dwelling in severe conditions such as lava caves. All those conditions of harsh environments, including the Antarctic biota, could serve as analogues for other planets.
Special stress is given to the frozen worlds of Mars; Europa, the satellite of Jupiter; and life in the Saturn neighborhood with its moon Titan. The subsurface under the icy layers of these celestial bodies may contain large oceans that have extant or extinct microbial life. Other chapters discuss the habitability of exoplanets, Galacticpanspermia, molecules, and prokaryotes below the planetary surface, halophile life in the Universe, and the SETI search for extraterrestrial intelligence in the Cosmos.
Keywords
Astrobiology
Exoplanets
Life in the University
Bibliographic information
DOI

https://doi.org/10.1007/978-94-007-4966-5

Copyright Information

Springer Science+Business Media Dordrecht 2012

Publisher Name

Springer, Dordrecht

eBook Packages

Biomedical and Life Sciences

Print ISBN

978-94-007-4965-8

Online ISBN

978-94-007-4966-5

Series Print ISSN

1566-0400