© 2013
Advances in Cognitive Neurodynamics (III)
Proceedings of the Third International Conference on Cognitive Neurodynamics - 2011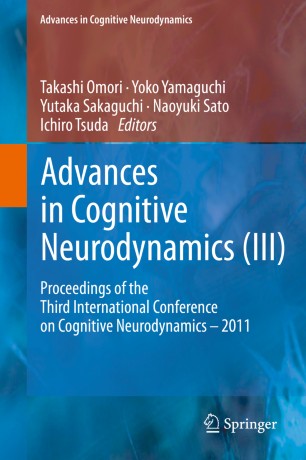 Table of contents
About these proceedings
Introduction
This book contains the Proceedings of the 3rd International Conference on Cognitive Neurodynamics held in Japan, June 9-13, 2011. It reviews the progress in this field since the first ICCN in 2007.
The participants were treated to an exciting and stimulating conference that left everyone with an enthusiastic vision for the future.
The discussed topics in this book include: Neural coding and realistic neural network dynamics, Neural population dynamics, Firing Oscillations and Patterns in Neuronal Networks, Brain imaging, EEG, MEG, Sensory and Motor Dynamics, Global cognitive function, Multi-scalar Neurodynamics - from Physiology to Systems Theory, Neural computing, Emerging Technologies for Brain Computer Interfaces, Neural dynamics of brain disorders.
Keywords
Cognition
Computational neuroscience
Neural engineering
Neurodynamics
Realistic neural network
Bibliographic information