Osteuropa transformiert
Sozialismus, Demokratie und Utopie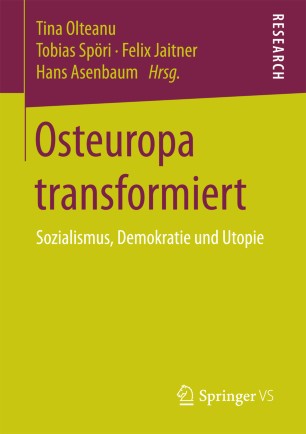 About this book
Introduction
Der vorliegende Sammelband leistet einen interdisziplinären Beitrag zur Osteuropaforschung und analysiert vergangene sowie aktuelle Prozesse in der Region. Die Beiträge schlagen einen Bogen vom Staatssozialismus über die Transformation hin zum Nachdenken über alternative Entwicklungen. Was war der Staatssozialismus? Wie prägte der Transformationsprozess die Staaten Mittel- und Osteuropas? Welche emanzipativen Potenziale ermöglichten diese Prozesse? Angesichts aktueller Entwicklungen erscheint eine intensive Beschäftigung mit der Region wichtiger denn je. Das Buch ist zugleich die Festschrift zu Ehren von Prof. Dr. Dieter Segert, der die Osteuropaforschung durch seine vielschichtigen Zugänge geprägt hat.
Der Inhalt
Reflektion des Staatssozialismus und der Transformation

Aktuelle Krisen und Umbrüche

Die Zielgruppen
Dozierende und Studierende der Sozialwissenschaften sowie der Osteuropastudien<
Praktizierende im NGO Bereich

Die Herausgeber
Tina Olteanu, Vertretungsprofessorin für Politikwissenschaft an der Justus-Liebig-Universität Gießen, arbeitet zu Demokratie und Partizipation.
Tobias Spöri, Universität Wien, forscht zu Generationseffekten in Zentral- und Osteuropa nach 1989.
Felix Jaitner, Universität Wien, promoviert zum Thema periphere Entwicklung und Reindustrialisierungsstrategien in Russland.
Hans Asenbaum, Centre for the Study of Democracy, University of Westminster in London, forscht zu Demokratie, Partizipation, Inklusion und digitaler Kommunikation.
Keywords
Transformationsforschung
Osteuropa
Demokratie
Sozialismus
Utopie
Bibliographic information
DOI

https://doi.org/10.1007/978-3-658-17818-5

Copyright Information

Springer Fachmedien Wiesbaden GmbH 2017

Publisher Name

Springer VS, Wiesbaden

eBook Packages

Social Science and Law (German Language)

Print ISBN

978-3-658-17817-8

Online ISBN

978-3-658-17818-5