© 2012
Geiz, Trägheit, Neid & Co. in Therapie und Seelsorge
Psychologie der 7 Todsünden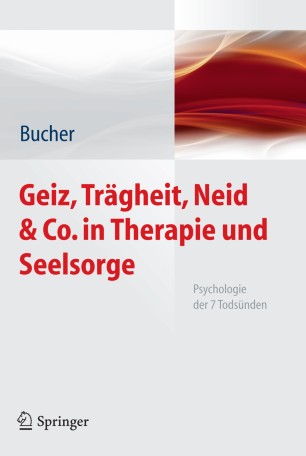 About this book
Introduction
Psychologie trifft Bibel
Die 7 Todsünden: Geiz, Trägheit, Hochmut, Neid, Zorn, Wollust, Völlerei. Eine Sammlung hoch aufgeladener Themen, die schon ewig in der Bibel stehen, aber dadurch nichts an ihrer Aktualität verloren haben. Warum? Sie sprechen jeden Menschen an – und sie sind selbst im professionellen Setting von Psychotherapie und Seelsorge höchst relevant.
State of the Art
Professor Bucher bietet den State of the Art der 7 Todsünden-Konzepte:
Welche psychologischen Untersuchungen zu dem Thema gibt es (eingearbeitet wurden mehr als 1000)?
In welchem Kontext stehen die jeweiligen Konzepte?
Welche Fallen, Ressourcen, Anregungen sind bei Therapie, Beratung, Seelsorge zu beachten?
Eingeflossen ist eine eigene Studie zum Thema mit 400 Personen und ebenso viele Erlebnisberichte, die die Todsünden noch anschaulicher und nachvollziehbarer machen.
Das Fachbuch zum Thema
Entstanden ist eine ausführliche Zusammenstellung relevanter Forschungsergebnisse zu den 7 sündigen Themen. Gut strukturiert und gut lesbar. Angereichert durch anschauliche Fallbeispiele. Geeignet, um sich einen fundierten Überblick über den gegenwärtigen Stand der Forschung menschlicher Schattenthemen zu machen.
Eine Fundgrube für Therapeuten, Berater, Seelsorger, interessierte Mitleser
Keywords
Abwehr
Abwehrmechanismen
Beratung
Bewältigungsstrategie
Emotionales Lernen
Emotionsregulation
Geiz
Glauben
Hochmut
Neid
Persönlichkeitsentwicklung
Psychische Gesundheit
Psychoedukation
Psychotherapie
Religiösität
Ressourcenorientierung
Selbstwirksamkeit
Sinnfindung
Sünde
Tabu
Trägheit
Völlerei
Wollust
Zorn
soziale Kompetenz
Bibliographic information